What is a blog?
A blog is a regularly updated web page whereby new contents are frequently published, typically written in an informal or conversational style—often with the goal of attracting readers and generating an online income. A blog may be managed by an individual or a small group. The act or process of managing a blog is termed blogging. And the person who manages the blog is called a blogger.
Should you start a blog?
Today, starting a blog is by far one of the easiest, most accessible ways to launch your own business and earn an income online (from anywhere in the world). The best part? You don't need to be a professional writer in order to start a blog—because people who read blogs crave the more relatable, conversational tone of a blogger.
You don't need any credentials, years of experience in your field, or school degrees in order to start a blog and become successful with it.
You can truly start blogging regardless of your age, location and experience level. If you have any of these goals for yourself, then you should highly consider blogging:
Making money online. As we get further into 2020, millions of people around the world are turning to making money from home—rather than pursuing a traditional 9-to-5 job. Blogging can be one of the most profitable online businesses with very low costs, if you do it the right way. And the best part is, the handful of hours you put into writing a blog post today can make money for you long into the future. You don't need to blog full-time either. Even part-time bloggers can earn well into the six-figures from their blogs each year, like I've done for many years.
Growing a business or personal brand. If you already have a business you're hoping to grow, then starting a blog is hands down the best way to attract more customers online, or even to your storefront without spending a dime on advertising. I've helped dozens of small business owners write blog content that brings hundreds of new readers (potential customers) to their websites every day. And if you want to elevate your personal brand to one day land a book deal, become a paid speaker or consultant, blogging is an excellent way to display your leadership in your field. Once you start blogging to grow your business or personal brand, you'll never want to go back.
Telling your story. One of the most purposeful reasons to start a blog is to share what you've learned with the world. If you've built a useful skill, accumulated experience at a job or mastered a particular craft, then others out there who are just starting out can benefit greatly from the advice you have to offer. A blog is the perfect place to share everything from your own personal journey through life, to documenting your daily activities, shedding light on life updates or offering career insights to others.
So, if you're ready to take a leap and learn how to start a blog that can eventually make a meaningful amount of online income, let's get into this simple tutorial.
Disclosure: Please note that some of the links below are affiliate links and at no additional cost to you, I'll earn a commission. When you purchase hosting using my Bluehost affiliate link, they compensate me, which helps make this guide free of charge to you. Know that I only recommend products and services I've personally used and stand behind.
Now, let's dive into the first step of how to start a blog for beginners.
1. Pick your blog's name
First, it's time to pick a name for your new blog.
The name of your blog is what readers will see first (like yourname.com), so it should represent something like the general topics you'll be writing about—or it could be your own name, that of your business, a clever combination of words, or otherwise. If you're coming up short on ideas for naming your blog at this point, you can jump down to here for more advice on choosing the right name.
As you pick your blog's name here, you'll also select the blogging platform and web hosting you'll us in order to get your blog online.
The combination of blogging platform & web hosting I personally use (and that most other bloggers use) is a WordPress blog, hosted by Bluehost. WordPress is a publishing platform that's been around since 2003 and now powers more than 60% of all blogs on the Internet. And Bluehost is one of the longest established companies in the blog hosting industry. This combination is what we'll be using to start blogging with in this guide.
Disclosure: Please note that when you purchase hosting using my Bluehost affiliate link, they compensate me, which helps me make this free guide to starting a blog, well free of charge to you. Know that I also use Bluehost hosting, and I would never recommend a product, tool or service I don't personally use & advocate for ?
So, let's get started on choosing your blog's name.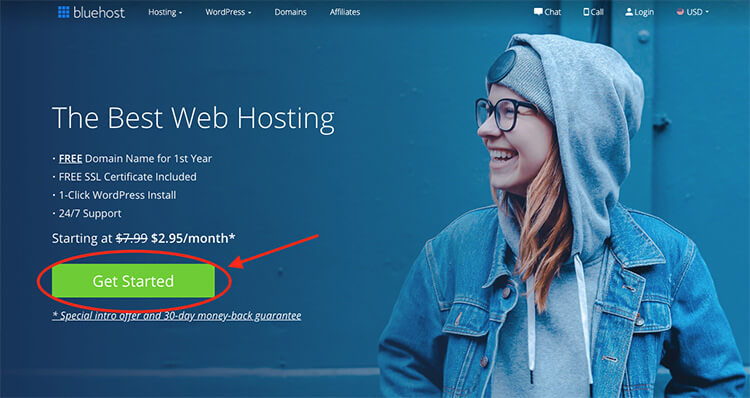 Choose your plan
First, you'll select a hosting plan (inputting your blog name comes next). Remember, web hosting is the service that actually gets your blog online and keeps it live on the Internet. Personally, I recommend choosing the Choice Plus plan because it comes with Domain Privacy, which will protect your personal information (your full name, email address, phone number and home address) from being published anywhere online.
Choosing your plan will look like this right here. Just click the green "Select" button on your plan of choice: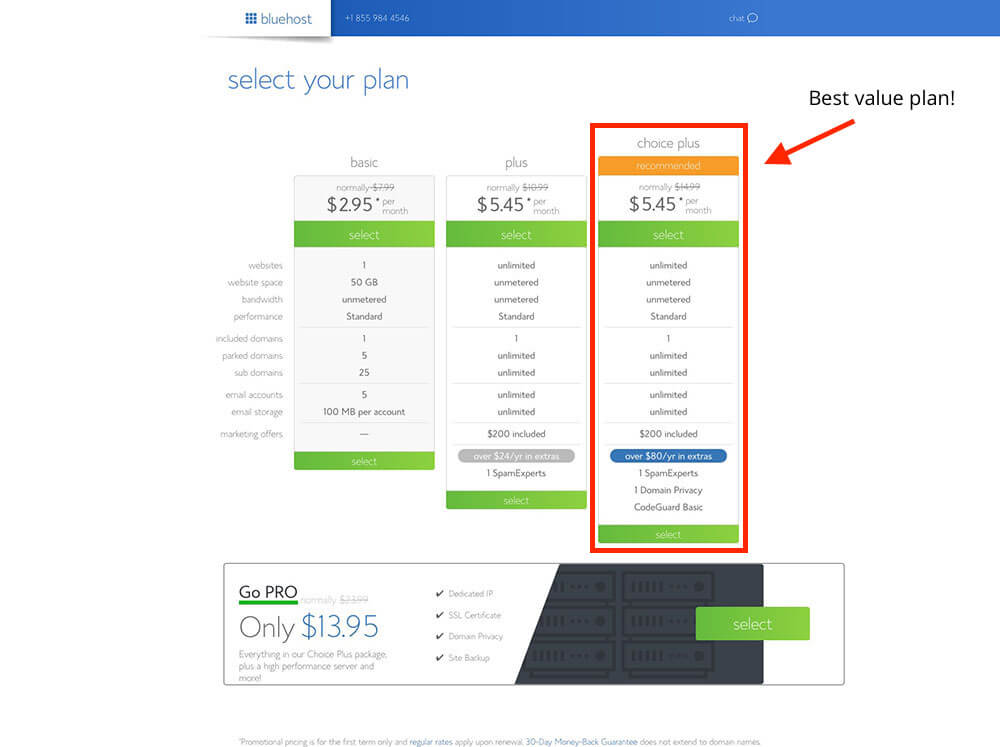 As I said above, I recommend choosing the Choice Plus plan, so that you're getting the Domain Privacy feature that'll protect your personal information online, but any of these plans will do as you're starting your blog—and you can add the domain privacy in later during the checkout process for around $1/mo.
Pick your blog's domain name
Next, you'll get to the page where it's time to choose the domain name for your blog:

Once you get to this step in the checkout process, just type in the name of the domain name that you'd like your blog to have (mine is ryrob.com).
If your domain name of choice isn't available, you can either try another option that comes to mind—or (what I recommend) select the option to choose your domain name later after getting the rest of your account squared away and taking a little more time to think the name through. Plus, a little further on in this guide (right here), we talk more about how to choose the right name for your blog if you're not yet decided on it.
Here's where you can click to choose your domain later (it's a popup that will appear if you hover on this page for long enough or move your mouse up toward the top of the page):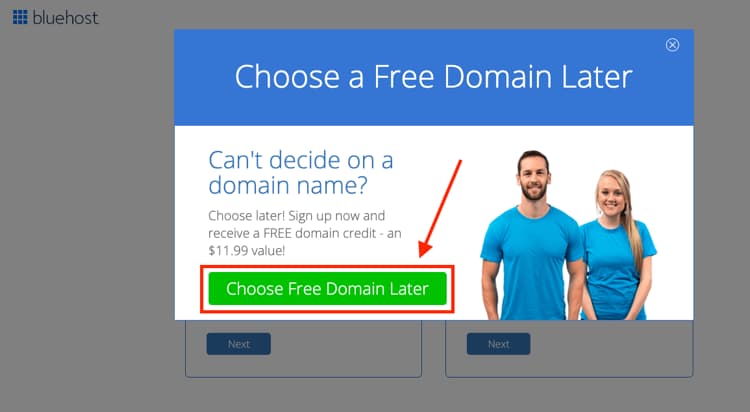 After either choosing your domain name or opting to select it later, you'll be taken to the final step in the sign up process—creating your account.
Create your Bluehost account
Start by filling in your account details like your name, email address (it's super important to use an up-to-date email address because this is where your login details and account information will be sent) and address. If you don't want to enter your information manually, you can connect your Bluehost account with your Google account. Either works!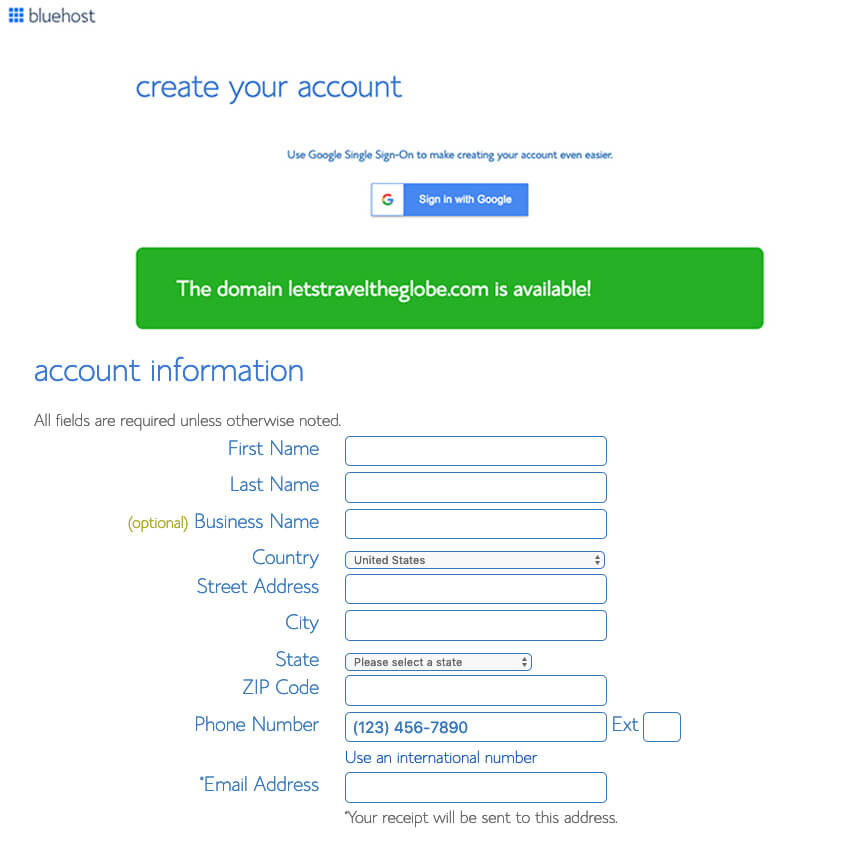 Select the right hosting package
This is where you'll choose an account plan based on the price you want to lock in and how far in advance you'll pay.

Note that Bluehost only offers options for you to pay 1, 2, 3 or 5 years upfront. They don't offer a monthly payment option (because most hosting companies that do offer monthly payments tend to charge a bit more). Even still, with whichever plan you choose, the price works out to be a good deal for starting your own blog and getting it online today.
Which pricing plan is best to start a blog with?
Personally, I recommend choosing the "Prime 36 Month Price" if you want to lock in the lowest possible price for your hosting. That's what I use. And it secures your blog hosting at their lowest rate (and gets you domain privacy) for the next 3 years. And because this low pricing for new customers only applies to the first payment you make, if you were to choose the 1-year plan, your pricing may go up after that first year.
That's why if you choose the 36-month plan, your pricing will be locked in at this rate for 3 years. For that reason, I recommend going with the longest duration plan that your budget can spring for.
Choosing the right package extras (skip all but one)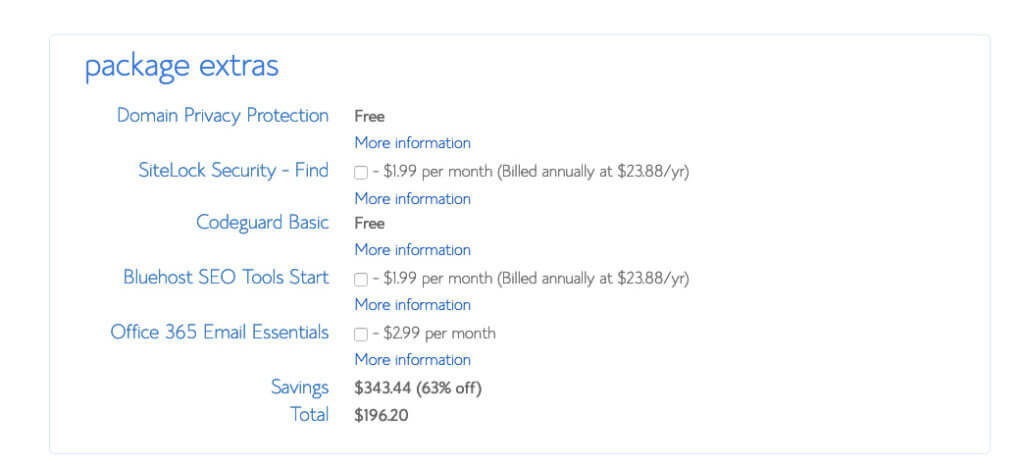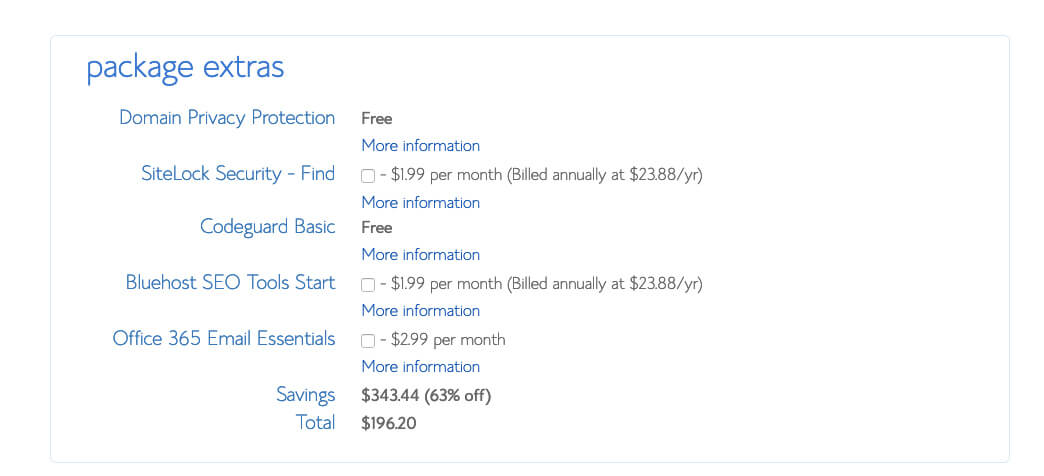 I recommend keeping the Domain Privacy Protection extra, but you can get away with skipping the rest. Later on in this guide to start a blog, I'll show you the many free and cheap plugins & tools you can use for things like SEO optimization, rendering most of these package extras not necessary.
As I mentioned earlier though, having the domain privacy extra keeps all of your personal contact information (your name, email, phone number and address) private. Now, if you chose the Choice Plus Plan on the previous screen, then your Domain Privacy Protection will be listed as "Free" just like this screenshot above shows—it's included in that plan.
If you chose a Basic or Plus Plan, then you'll want to check the box to add Domain Privacy Protection to your order for around $1/mo.
The total you'll now see is the amount you're going to pay today. Remember though, you won't have to pay again for 1, 2, 3 or 5 years depending on the package you chose. Plus, there's a 30-day money back guarantee in case things don't go as planned with your blog.
Enter your billing information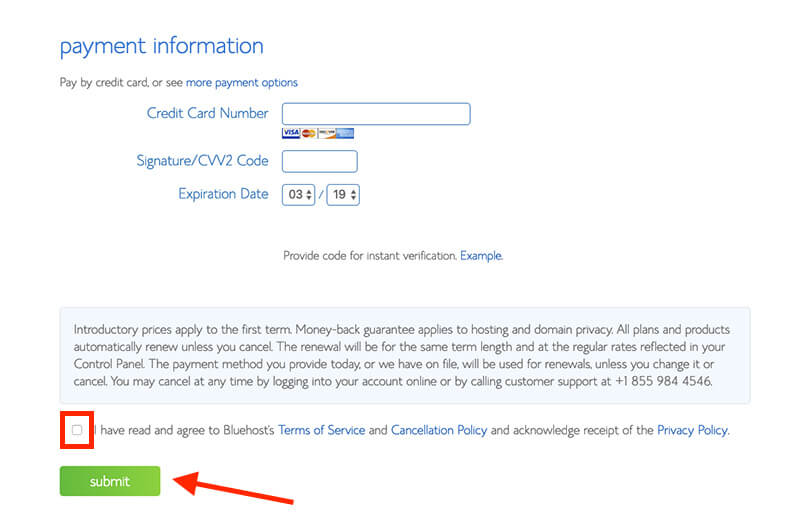 Now you'll input your billing information, check the box that you agree to Bluehost's Terms of Service and then hit the green "Submit" button!
Woo! It's time for a mini celebration ?
You've officially completed the first major step of how to start a blog.
With the initial signup process complete, it's time to move into the next stage of getting your blog fully setup and optimized.
On the next page, you'll be guided step-by-step through the process of getting WordPress installed on your blog through Bluehost—and later on in this guide, I've got a ton of helpful tips for optimizing your blog, free and cheap plugins you can install to help get your blog looking great, and more.
How to pick the right name for your blog
I get a lot of questions from readers about how to name a blog the right way, so I wanted to touch on that a little more here.
If you're not yet sure about what to name your blog, fear not. When you get started with a hosting company like Bluehost, they'll let you choose the domain name later. As I said above, if you don't immediately see the domain name you want available, don't get hung up—just select their option to choose it later after getting everything else set up (remember, execution is what you're here for, not perfection).
But because this is one of the most frequently asked questions I get from readers who are learning how to start a blog, let's dig into this for a moment…
Now, while the name you choose is one of the more important parts of setting up your blog, remember that it's something you can always change in the future—so don't let this step hold you back. Just choose something that's close to the topics you're planning to blog about, or you can even grab yourname.com or yournickname.com (like I've done with my blog here, ryrob.com) and let's keep moving.
Your blog name is the first thing people see when you show up in search results and can often tell them about who you are, what you're writing about, and even your personality.
Like I said, there are tons of ways to come up with a name for your blog (you can even use your own name—or a nickname like me ?). So let's run through a few fun exercises to help you pick a name while you're learning how to start a blog.
First, dig deep into your niche and uncover why you decided to start a blog
After learning how to pick a niche to blog about, the first thing you want to do is get familiar with other people in your industry (if you're not already).
For example, if you want to start a blog about hiking and you live in the state of California… one name you might consider for your blog could be letshikecalifornia.com.
Check out the other blogs in your niche and pay special attention to how they name and brand themselves.
Is there anything you can learn from, play off of, or subvert? Don't just think about the biggest bloggers in your niche, but look for fresh inspiration and things that stand out to you.
You can even get a little outside your niche and look for words that some of your favorite companies use. I like to call this looking for "good words." What words keep popping up that you're drawn to? Make a list of these.
Next, identify the message you want to deliver by choosing to start a blog
You're learning how to start a blog for a reason, and a powerful name for your blog may be sitting at the core of your desire. Go back to your list from picking a blog niche and start to dig into what represents the core message you're trying to communicate. As Nate Weiner, founder of Pocket said:
"The first question to ask yourself is why do you want to rebrand? What does your company and product mean? Where do you want to take it into the future? Does your existing or new name let you do that?"
This might feel like a big question, but don't let it paralyze you. A great name has meaning, but there are plenty of good ones that are just plain fun and memorable.
Now, put yourself in your reader's shoes
You've laid some good groundwork, but now it's time to get serious. Think about your future blog's general topic area and who your ideal reader is. What do they want to read? What's going to grab their attention? What's going to tell them they have to read your blog?
Start with a list of everything you want your blog to be about. Go deep. There are no bad ideas here.
Once you've got a massive list, start to look for connections and combinations that might work. Try to keep them simple and memorable.
Some great blog name examples are:
Art of Manliness
Smart Passive Income
Epicurious
The Huffington Post
Learn to Code with Me
Finally, say the name of your blog out loud and tell it to others
It's easy to get wrapped up in some fun wordplay when it comes to picking a blog name (and choosing a domain name to represent it).
But it still needs to be easy enough that people will remember it and be able to tell their friends about you. To practice, say the name out loud and to friends and family. What do they think about it? What emotions does it bring up for them?
They might not be your ideal reader, but they can still give you a good outsider's perspective either way.
And if you're still struggling to come up with a novel name for your blog, try one of these domain name generators that can help come up with some more creative ideas for naming your blog today.
Ready to register your domain name and set up blog hosting?
I made this quick video tutorial to walk you step-by-step through the entire process in just a few minutes:
---
Disclosure: Please note that when you purchase hosting using my Bluehost affiliate link, they compensate me, which helps me make this ultimate guide to starting a blog free of charge to you. Know that I also use Bluehost hosting, and I would never recommend a product, tool or service I don't personally use & advocate for ?
I know first-hand that learning how to start a blog can be a massive undertaking.
And if you need a little more detailed guidance, I put together a free master course for you to take that spreads all of this work out into a series of action-packed lessons and goes into even more granular detail than this tutorial.
While the first crucial step to getting your blog started today is registering your domain name and setting up hosting, my free course breaks the entire process of starting a blog and actually growing it, down into an incredibly simple 7-day process for going from zero to publishing (and promoting) your first blog post in less than 1 week. I can't recommend it enough.
Want my Free Course: How to Start a Profitable Blog in 7 Days?
Enter your name and email address and you'll get instant access to my course that's been featured on Forbes, Business Insider and Entrepreneur.
---
2. Get your blog online (web hosting)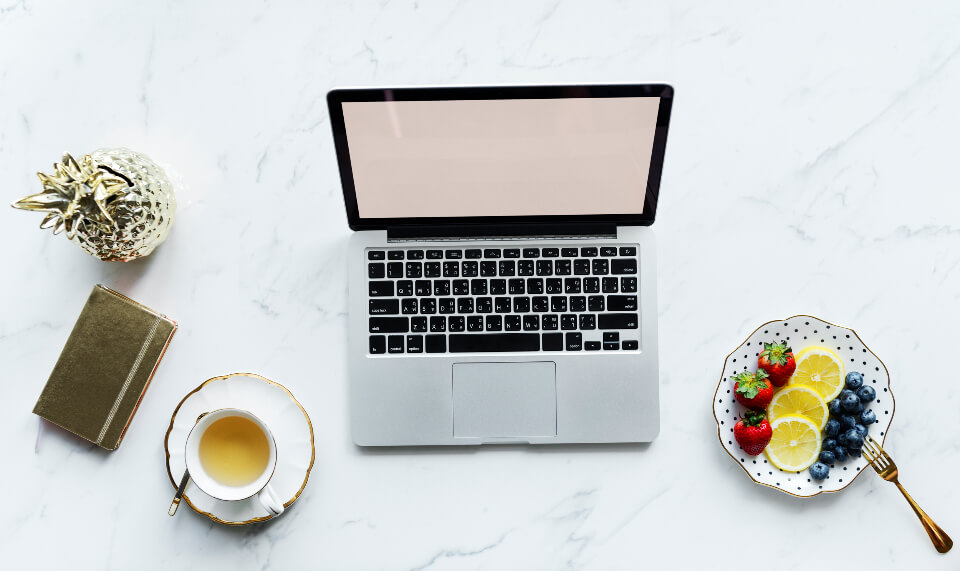 The last in the setup stage of learning how to start a blog is actually getting your blog online. That's what hosting companies (like Bluehost) will do for you.
If you've followed along and completed step #1 exactly as I showed you, then you'll already have web hosting set up for your blog. You can jump straight down to step #3 and continue with this tutorial.
However, if you want to go with a web hosting provider other than Bluehost to secure your blog's name & domain, you'll till need to set that up before moving forward.
Again, I don't want this to feel overwhelming, so let's get the basics out of the way:
What is web hosting?
I touched on this a bit in step #1 above, but to make your website accessible to other people on the Internet, you need a "host." The host keeps all your website files safe, secure and makes sure that people can access your blog when they click on a link or type in your URL.
I use and recommend Bluehost to every blogger, because it acts as a one-stop shop for great (affordable) web hosting and quick & easy registration of your domain name in one swoop. And if you already followed everything in step #1 above, then you've got Bluehost set up to be your web hosting provider so no need to worry ?
As I said, if you've already completed the first step above and gotten setup with Bluehost—then you can skip this step! You've already got your domain name and hosting squared away.
Think of web hosting like being your home. When someone comes over (types in your URL), they'll be able to see all the things you've been keeping inside. Yes, it comes at a cost you don't have if you're on one of the free blogging platforms, but having a proper website host is one of the most important investments in starting a successful blog.
What are the best web hosting services to use?
There are several great web hosting services out there for your blog.
Regardless of who you choose, what you should be looking for in a web hosting company is:
Speed
Features
Security
Support
Track record
The service I've found that best checks all of these boxes (and more) for new bloggers is Bluehost. Yes, I know I've mentioned them several times as my web hosting company of choice already in this guide, and that's for very good reason.
For one, Bluehost offers a simple 1-click WordPress install, which makes starting a self-hosted WordPress blog super easy. It also comes with a free domain name (if your desired URL is available) and offers 24/7 support to answer all of your questions and help with troubleshooting (which is fantastic when you're just getting started).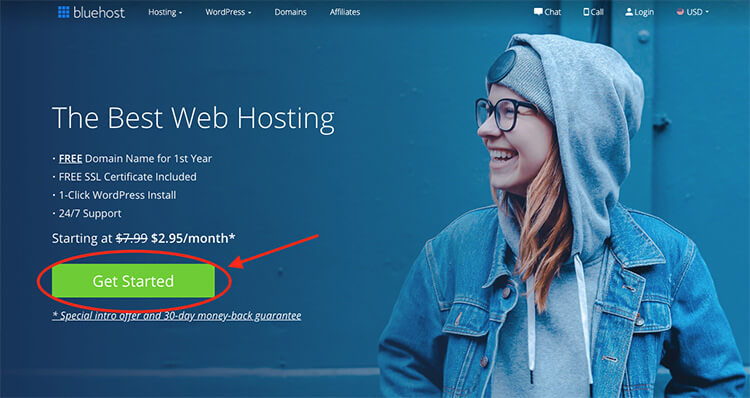 If you're committed to learning how to start a blog that can eventually make money (the way I recommend you doing it), nothing gives you the security, features, and peace of mind that your blog will be up when you need it to be like Bluehost does.
That being said, there are a other web hosting providers worth considering for new bloggers:
The 2 best alternative blog hosting platforms worth considering
Dreamhost — I've hosted literally dozens of websites on Dreamhost over the years (and I still do). All similar features like 1-click WordPress install, free SSL certificate and site security aside, one of the biggest pros of going with Dreamhost compared to other hosting companies, is that they offer a true pay-per-month plan that allows you to pay for the cost of your blog hosting each month with no strings attached. Here are a few other web hosting companies that also offer monthly payment plans.
Namecheap — The thing that sets Namecheap apart from other hosting companies, is their domain marketplace. You can still register a brand new domain name with them, but if you'll also find thousands of domain names that have already been registered and are now for sale—often a good way to acquire a site that has some existing domain authority to jump start your ability to rank content in search engines.
If you still want to evaluate more of the top blog hosting providers, then head on over to my breakdown of the ten best web hosting plans for bloggers this year.
Now we're at the point in this guide where everything from here on out will be built upon the assumption that you've already registered your domain name and chosen the right hosting plan—so if you haven't done so already, take just a few minutes to quickly get set up on Bluehost.
3. Design your blog with a free WordPress theme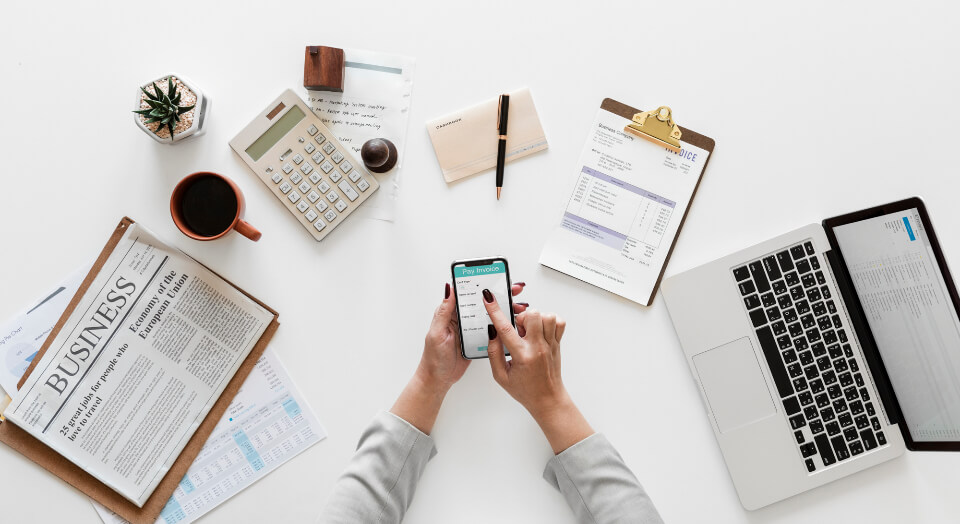 Now that you've gotten through the first phase, it's time to get into the fun part of how to start a blog.
Designing your WordPress blog is when you might start to feel a little friction with the process of starting a blog (if you've never done this before), but I promise this won't get too technical.
Plus… the last thing I want is for the very minor technical side of starting a blog to derail your progress today. That's why, in my free course How to Build a Blog in 7 Days, I break this technical setup process down into an even more actionable, step-by-step checklist for you.
---
Want my Free Course: How to Start a Profitable Blog in 7 Days?
Enter your name and email address and you'll get instant access to my course that's been featured on Forbes, Business Insider and Entrepreneur.
---
If you want to start a blog and make money from it, WordPress is your only smart option.
Let's quickly get some basic terminology out of the way first, so you understand why WordPress is the right platform to run your blog on.
What is a CMS?
A Content Management System (or CMS) is where you'll be writing, designing, and publishing your blog posts. A good CMS (like WordPress) is easy to use, let's you organize your content, upload images and videos, and have control over how your entire blog looks using themes or custom design elements.
The most popular CMS you've most likely heard of is WordPress, which is what I use here on my blog. In fact, the latest blogging statistics show that over 60% of all blogs run on this CMS, including the websites for Forbes, New York Observer, TED, Thought Catalog, TechCrunch, NBC and others.
Should I start a blog on WordPress? And is WordPress free?
Of course, there are other CMS options you can look at, such as Squarespace, Ghost, and Wix when learning how to start a blog. However, I strongly recommend setting up a self-hosted WordPress site for your blog as it's the most sustainable, long-term solution—and really the only option worth considering if you're starting a blog with the eventual goal of making money from your website in some way, shape or form.
Since I learned how to start a blog, I've been running my blog on WordPress (hosted with Bluehost for the first few years) and I couldn't be happier with the amount of flexibility, control and long-term growth potential I have over my blog.
Now, one thing you need to be careful of is that WordPress comes in two very different platforms. WordPress.com and WordPress.org. They have almost the same name, but there are very big differences between the two: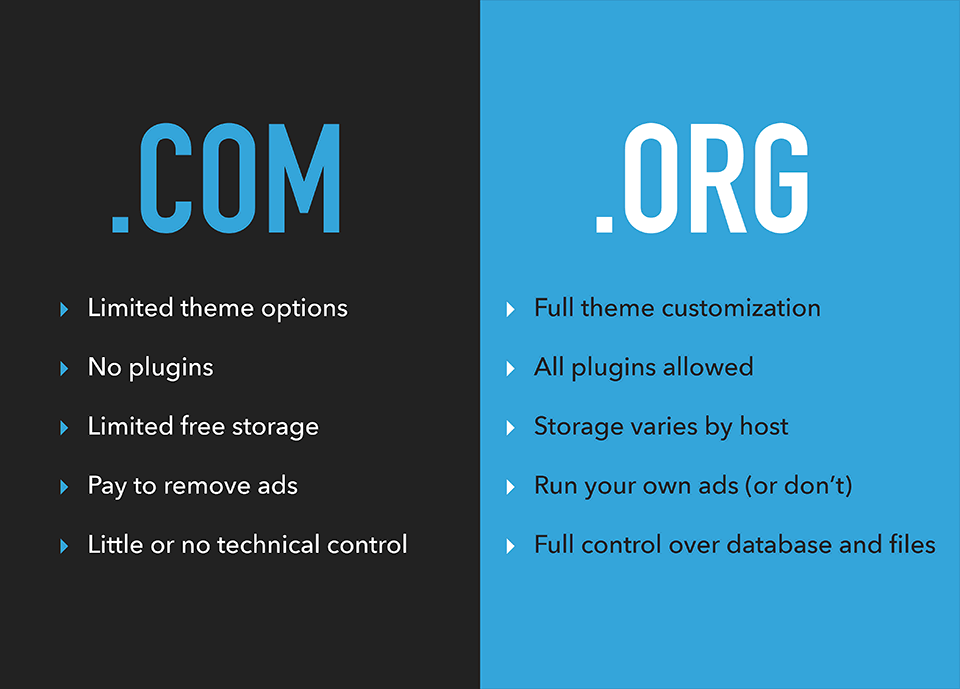 WordPress.com:
Is free to use (with heavy restrictions)
Doesn't let you pick a custom domain name (i.e. ? yoursite.wordpress.com)
Has very limited monetization options (you can't sell your own ads)
Doesn't let you upload plugins (for email capture and other things)
Has limited theme support so you're stuck with very basic designs
You have to pay to remove WordPress branding and get your own domain like yoursite.com
Limited SEO and analytics
WordPress.org:
Fully customizable design, unlimited plugin options, and no branding
Total control over your own monetization efforts
Powerful SEO features (so people can find your site easier)
Let's you start or add an eCommerce store or membership site
Small monthly fee (from the web hosting company you choose to host your blog)
While the choice is yours, if you want to take full advantage of your blog, be able to have it grow with you, and eventually make money from it, WordPress.org is the way to go when learning how to start a blog (and the process you've followed up to this point). It's the CMS of choice that'll sit in the background and power your blog.
Plus, with affordable hosting plans from companies like Bluehost and Dreamhost, you can be up and running with WordPress installed and powering your blog in a matter of just a few minutes using their one-click WordPress installation tool after signing up.
How to configure WordPress (and publish your first blog post)
Here's a step-by-step video walkthrough of how to install WordPress on your new blog and configure the right settings. We also cover publishing your first post:
---
Naturally in this video, we won't cover everything about WordPress, but remember that these are the basics you need to accomplish first.
Spend time familiarizing yourself with the backend of your blog. Explore, test things out. You'll develop a much deeper understanding of how WordPress works and which things you can quickly change about your site's appearance. This is when the fun really begins!
Why design is so important when learning how to start a blog
Even if you don't really care about design, your readers do.
In a 2012 study from Google and the University of Basel, researchers found that users judge a website's aesthetic beauty and perceived functionality in 1/20th – 1/50th of a second. Plus, thanks to a little psychological bias called the Halo Effect, we extend that judgement to all parts of your blog.
What this means is that in less time than it takes to snap their fingers, a reader has decided whether or not to trust your blog.
Good design builds trust. It tells people that you care enough about your blog to make it look nice. This doesn't mean you need crazy animations or tons of fonts and colors. In fact, the best designs are simple, clear, and easy to read.
Real quick before we dive deep into blog design, I wanted to drop in a few links to a handful of common blogging FAQs I'm often asked. So, if you've got one of these questions when it comes to learning how to create a blog, you can click on them and jump straight down to my answers at the end of this guide:
Alright now, let's move into learning how to design a blog (the right way).
Choosing the best (free) WordPress theme for your blog
Like I said in the video above, I don't necessarily recommend buying a paid WordPress theme like the one I use here (OptimizePress) as a new blogger, until you have some traffic and are generating at least a little income from your blog. While OptimizePress is an incredible theme, diving into something like that at this stage will be a distraction from your most important priority of actually bringing readers to your blog.
WordPress comes with a ton of free themes to choose from, so start with one of the options you like in Appearance > Themes > Add New Theme > Popular without spending much time on this for now. You can always come back and change it later.
I recommend going with the free Elementor Page Builder. Once you download the free version of Elementor, you'll get their (amazing) detailed instructions on how to install & optimize the theme too: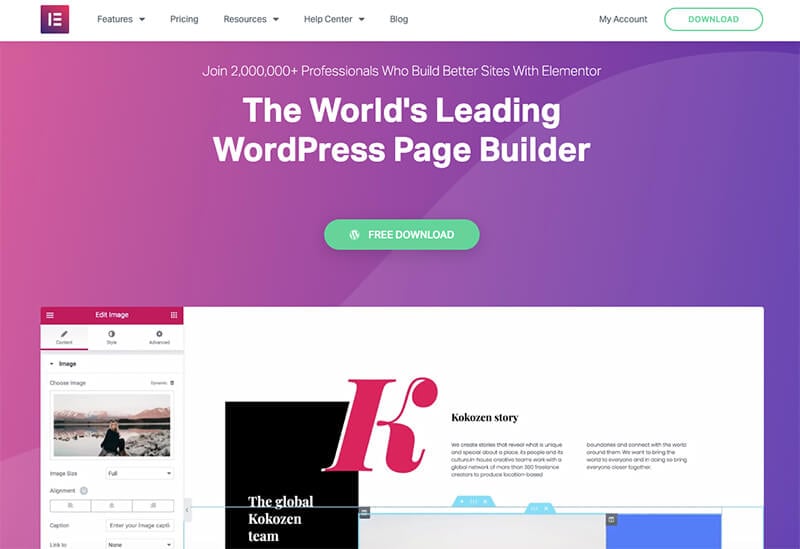 I like Elementor so much because it's super crisp, clean, simple and will get you to a good starting point without needing to invest in a paid theme as you just start blogging.
Plus, as your new blog begins to grow, Elementor's upgrade options that unlock more widgets, templates and design resources—is seriously as good as it gets when it comes to the best WordPress themes on the market today.
How to evaluate other WordPress themes for your blog
Picking a theme for your WordPress blog can be a lot of fun. But it can also take up a ton of time that you could otherwise be using to write and promote your posts (and thus getting to your first blog income faster). Here are my recommendations of the 26 Best WordPress Themes for Bloggers.
There are so many themes to check out, that it's easy to get swept away by the ones that look awesome, but might not be functionally great.
Remember, design isn't just about how your blog looks. It's about how it works. And the easier it is to navigate and read, the better.
Here are a few suggestions of what to look for when evaluating WordPress themes:
Keep it simple: At the end of the day, the goal of starting a blog is to share content that can be easily consumed (read, watched, experienced). And unfortunately, a lot of fancy blog themes get in the way of that. Don't get too drawn in by crazy looking WordPress themes that compromise on legibility and usability. If a theme looks good, but doesn't help you share your thoughts and engage with readers, it's not a good theme.
Responsiveness is a must: Responsiveness refers to themes that make sure your blog looks as good on a laptop, as it does on someone's smartphone. Today, more and more people use their phones to read blogs and depending on your audience, that number could be 50% or higher (like mine is). Google also favors mobile-friendly websites and ranks them at the top of their organic search results. If you're not totally sure whether a theme is mobile friendly or not, copy and paste the URL of the theme's demo page into Google's Mobile Friendly Test page. (This test will almost always show some warnings. But major red flags to watch out for are text too small or content wider than screen.)
Does it work in different browsers? Your readers won't just be using different devices, but different browsers. Most theme developers rigorously test their themes across browsers, but sometimes mistakes slip through. Try testing on a couple different browsers just to make sure.
Supported plugins: If you're using WordPress, the real power of your blog comes from plugins. These are "Add-ons" to your blog that give you extra functionality. Make sure the theme you're choosing supports all popular plugins. If you're unsure, ask the developer.
SEO friendliness: SEO, or search engine optimization, refers to how well Google and other search engines can find your information when people search for it. Some themes use bulky code that makes it difficult for search engines to read. And while no one expects you to inspect a theme's code you should see if the developer has said it is optimized for SEO.
Support: Problems happen. And when they do, you want to be able to ask for help. Lots of free theme developers won't offer support for their products. So that's one thing to be aware of when making your choice.
Ratings and reviews: Look for themes with a good track record. If the theme is sold on a third-party marketplace you should be able to see reviews no problem. For free WordPress theme, you'll see the ratings just below the download button.
With all of this in mind, my recommendation is to use Elementor as your WordPress theme of choice, as it'll be the best theme for new bloggers to learn on.
Once you've settled on the right theme for your WordPress blog, it's time to dive into the world of WordPress plugins, to help unlock even more customizations and must-do prep work in order to give your blog a strong chance of developing into a full on business.
10 Essential blog plugins you need to install in WordPress today
WordPress plugins are an absolutely crucial part of designing your blog and warrant a bit more of a deep dive.
Plugins let you add all sorts of features, like email capturing, nailing your blog SEO (Search Engine Optimization), observing your website analytics, optimizing your images, increasing your page load speed and more.
The only problem is that, like themes, there are literally thousands of plugins and blogging tools to choose from. And if you add too many (or poorly built ones) to your blog, it can weigh your site down and make it run slowly.
To help you cut through all the noise… these are the 10 must-have WordPress plugins to install on day one when you start a blog. This does assume you've chosen to learn how to make a website with WordPress, and remember that some plugins will make more or less sense depending upon the type of blog you want to build:
1. Yoast SEO or Rank Math SEO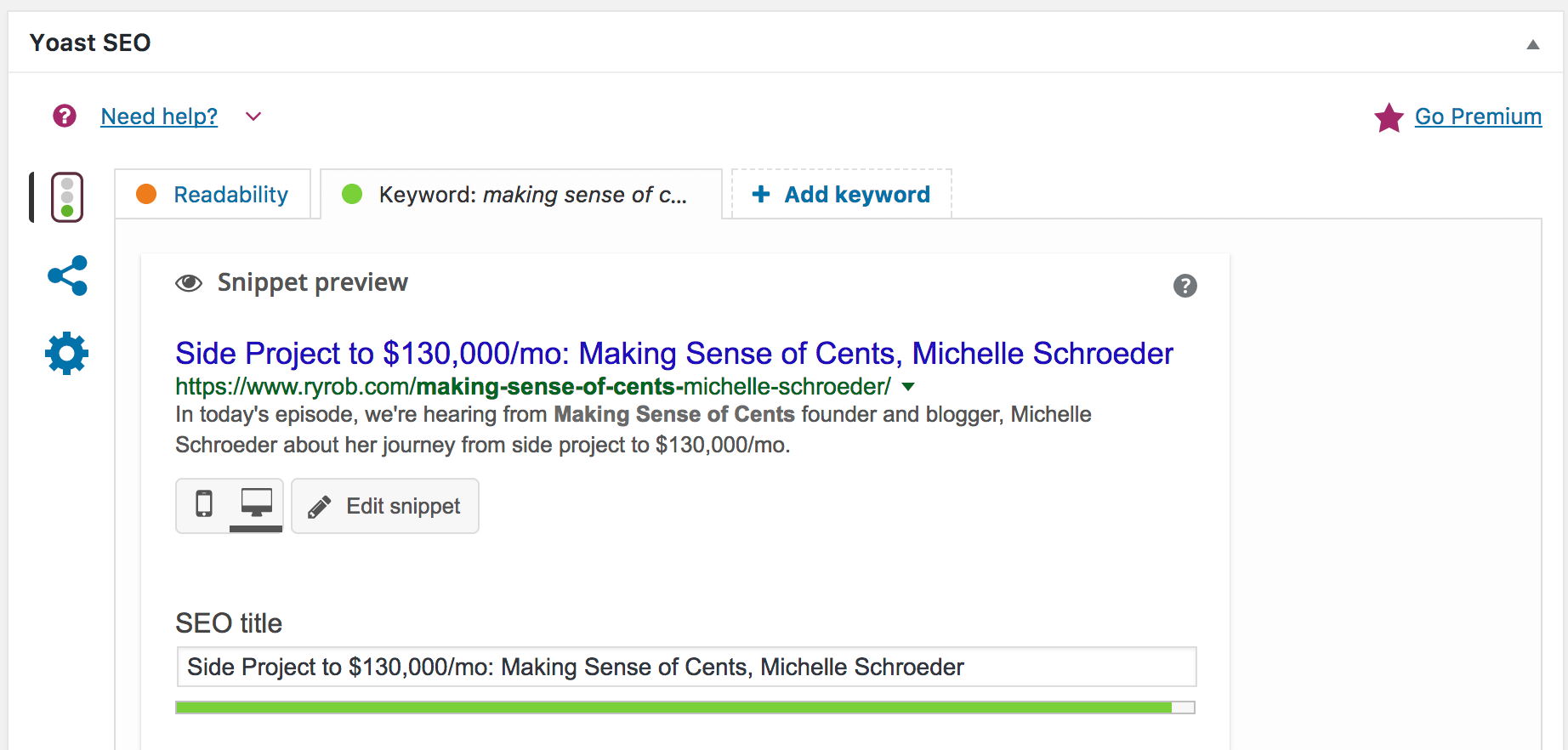 The more people that can find your content, the better your blog will do. The Yoast WordPress plugin helps you to optimize your blog post titles, descriptions, content length and other elements across your entire blog so that you can be found easier by search engines.
The Rank Math WordPress SEO plugin is a popular alternative to Yoast and also offers similar functionality, but goes much bit deeper in terms of SEO suggestions for better readability of your blog content, and the ability to add any of up to 14 types of Schema (structured data) to your blog posts and website pages—giving you a better chance of landing a coveted featured snippet ranking.
2. OptinMonster If you're building an email list of readers, OptinMonster has a suite of tools to help you convert more readers into email subscribers, especially with their exit-intent popups that catch visitors with a custom offer as they're about to leave your site. That makes this plugin a go-to resource for getting readers to join your email address.
3. WPForms or Kaliforms. You'll want your readers to be able to get in touch with you easily, which I highly recommend—as it'll encourage other bloggers who want to collaborate with you an easy opportunity to reach out. Both Kaliforms and WPForms are easy-to-use plugins that allow you to drag & drop contact forms onto any page of your blog.
4. Social Snap or Sumo. Social shares, email captures, and more can be done with these WordPress plugins. Pretty much a no-brainer if you want to build and grow your blog.
5. Google Analytics Dashboard for WordPress. This is a 100% free Google Analytics plugin that allows you to see all of your relevant analytics data directly inside WordPress. Connect the plugin to your Google Analytics account (you can sign up for a free Google Analytics account right here) to find out who's coming to your site, how long they're sticking around, and what your most popular blog posts are.
6. UpdraftPlus. Again, sometimes things will go wrong on your blog (and it won't always be totally in your control). It's always smart to have a backup plugin that'll save all your hard work on a regular basis, and this free one stands high above the rest.
7. WP Rocket. Faster websites rank better in Google and give your readers a better experience. WP Rocket is a plugin that caches your pages, reduces your file sizes, and does much more to ensure that your blog loads faster for everyone.
8. MaxCDN. Speaking of speed, MaxCDN makes images and other static elements of your blog load faster as well, earning this plugin top marks to consider as a complement to WP Rocket.
9. MemberPress. If you want to build a gated community around your blog content, there's nothing easier than using the MemberPress plugin. You can create subscriptions, restrict content, and set up payment options.
10. Insert Headers and Footers. Sometimes to edit your theme, you'll have to add code snippets to your header or footer (it's not as scary as it sounds). However, doing it in the code of your theme can cause issues. This plugin lets you add small snippets of code easily.
Basic WordPress blog settings you want to become familiar with now.
There are many different reasons for starting a blog and just as many unique goals you may want to accomplish with your site. Regardless, it pays to have a basic understanding of the broader aspects of how WordPress functions, so that you can control the visual appearance of your blog.
Let's dig into a few of the bigger picture settings that you can find in your WordPress dashboard.
Permalinks
We touched on this in the walkthrough video (above) when I customized the URL for the first blog post I published. And when you set up your WordPress blog using Bluehost, the permalink settings will already default optimized to publish new blog posts in the format of domain.com/post-name (like you saw in the video).
If your permalink settings aren't already set to this format, it's important to change them right now. This'll help you rank better in search engines like Google, because your title's text will appear in each of  your URLs.
In your WordPress dashboard, hover over "Settings" and navigate to Settings > Permalinks to make this adjustment. It should look like this here:

You'll still be able to customize an article's URL before publishing in WordPress, but now you've got a default URL structure that's SEO-friendly. Check out my guide on how to make SEO-friendly permalinks for more.
Cleaning up your default site URL
After your free Elementor WordPress theme is installed, you'll want to change the default URL of your website to include a "www" before your site URL.
That'll bring you from a URL that looks like https://yourblogname.com over to a more visually appealing https://www.yourblogname.com.
You can change this quickly by going to Settings > General and following this action: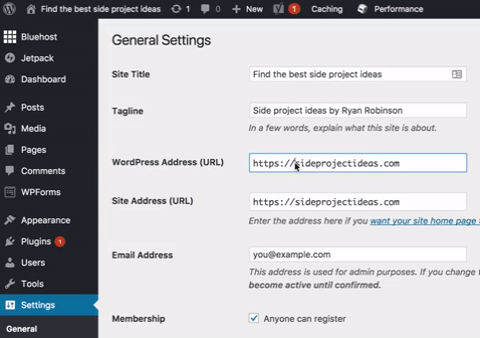 All of the pages on your blog will now be redirected automatically to the www version, which looks much cleaner and tends to feel more trustworthy to readers.
Setting your blog homepage
As I recommend in the tutorial video above, my advice is to just set your homepage to be where your blog posts display (for now).
You have the option of setting your homepage to be a static, custom designed page that can serve to capture email sign ups, sell a product, or otherwise in the future. But for now, stick with just a list of your recent blog posts.
If you're setting your homepage to be the blog, then one thing you can consider is changing the settings to show the complete text of your blog posts right on the homepage, rather than a list that has short previews of each post.
Since you won't have many posts on your WordPress blog for the next few days or weeks, this'll make it look like there's more content in the short-term, and you can change the settings back to a list and preview format once you've gotten your first 5 or so posts published.
To change these settings, just go to Settings > Reading.
Setting up your blog's menu
For right now, you won't need a menu until you've published your key pages (About, Contact, Hire, Shop, etc), but when you're ready to create a homepage or footer menu, just go to Appearance > Menus and you can create them in just a few clicks.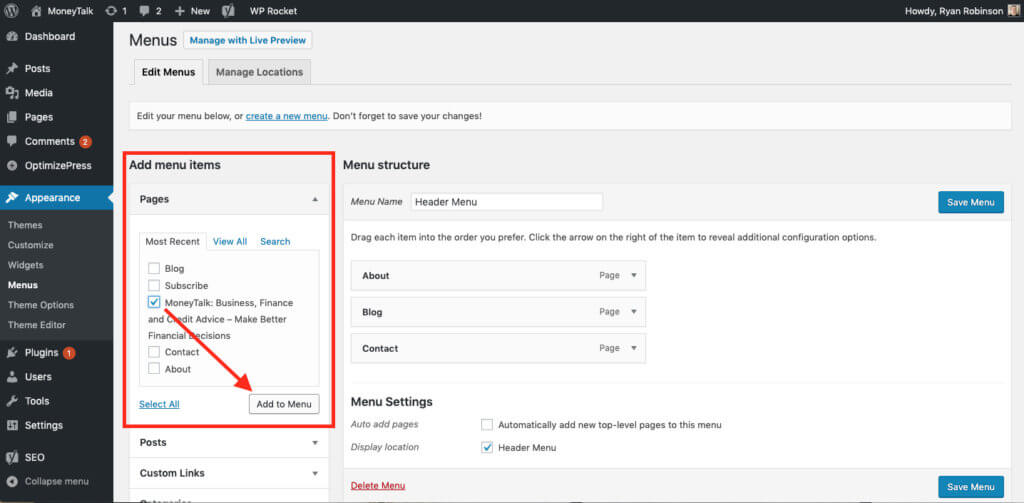 Alright, now we've covered the basic foundations of getting your WordPress settings dialed in.
So, let's dig into creating a few of the main pages on your blog.
Creating the main pages of your blog (about, contact, hire)
Every blog needs to showcase some basic, foundational information. Who you are. Why people should listen to you. How they can get in touch with you if they have questions or want to work with you.
These pages are all pretty standard, but they're also a great way to have some fun and let your readers get to know you. In fact, I use my About page to not only introduce who I am and tell my story, but also to explain my value proposition (for potential clients looking to hire me as a freelance content marketer) and show off some of my recent achievements.
Here are step-by-step instructions for how you can create an about page that does the same:
How to write an About page for your blog: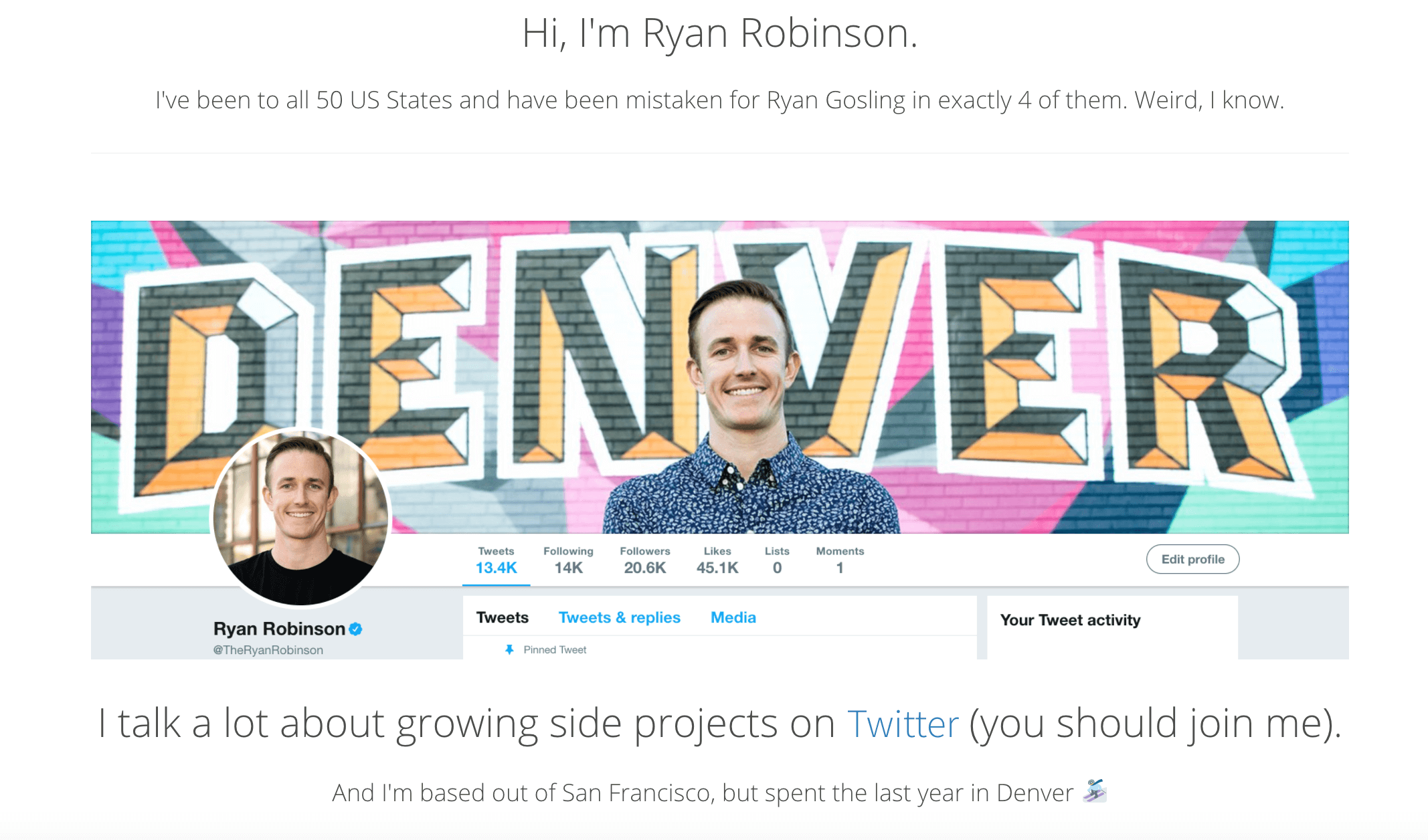 You might not think much about it, but your About page can quickly become one of the most popular pages on your blog.
Think about it… someone's stumbled across a post you wrote, they liked what they read, and they want to know who this person is.
Now, you can either give them an old High School photo and a couple thrown-together sentences (like most people). Or, you can tell them a story and turn them into a fan. Opt for the second path—that's what we're going to explain how to do here.
Writing about yourself isn't easy. So let's start with a few basic questions that every great blog About page should answer:
1. What value are you creating for your readers by choosing to start a blog?
It might be called an About page, but you don't want to make the mistake of only talking about yourself. Yes, you'll get to talk about who you are, but your About page should be just as much about your readers and the value you're creating for them.
First things first, you need to be ultra clear on who your audience is and the value you create for them. For example, my blog is all about helping people find the best business ideas and to launch profitable side projects. So, that's exactly what I say at the top of my About page.
This helps readers get grounded and know that they're in the right place.
2. Who is your blog for?
Your value statement will touch on who your ideal reader is, but you want to make sure when the right person gets to your blog they know they're in the right place. This is like a secret handshake for your blog. Nail it, and you'll make every single person feel like they're where they belong.
So how do you do this? There's a couple approaches you can take:
Tell them who the blog is for: There's nothing more basic than just saying what you are. So, for example, if you're making a community for cooking tips for working moms, just write: "Started in X as a cooking resource for working moms."
Show proof that you're part of their community: You can show your readers that you're part of their community in a number of ways. Do you write for other blogs or sites that are in your niche or actively contribute to popular communities and forums? What about adding a testimonial or social post from someone in the industry who read and liked your blog.
Personally, if you have the resources I would go for the second option. Not only does this tell readers who you are and if they're in the right place. But it also gives you a chance to show social proof (that other people have recognized you as a thought leader). Of course, you might not have this right away, so it's perfectly fine to just go with the first option.

Now, what if someone reads your About page and says "Well, this isn't for me?" That's perfectly fine. The more you know your ideal reader, the better your blog will serve that person. Just like when you were picking your blog niche, if you try to write for everyone, you'll end up writing for no one.
3. Why should they listen to you?
If you've done a good job in the first few sections, your reader should have a pretty good idea of who you are and be able to decide whether or not they want to keep reading you. However, at this point, it doesn't hurt to talk a bit more about yourself and sell them on why you're the blog they should follow.
That means answering a few more questions and setting their expectations. Here's what you might want to include:
What types of blog posts you write: "If you love X, Y, and Z, you'll feel totally at home here."
What they will get out of reading your posts: "I share everything I've learned building a 6-figure consulting business from nothing."
Where should they start: "If this is your first time here, check out my Ultimate Guide to X."
Why do you and your blog have credibility: "I'm a regular contributor to Fast Company, Business Insider, and Inc. Magazine…"
How did you get started: "Back is 2003, during an especially bad Colorado Winter, I fell in love with snowshoeing…"
Don't be afraid to get personal here. People connect with stories and vulnerability more than they do with carefully crafted prose. So be who you are! The whole reason readers will come back is to hear your voice.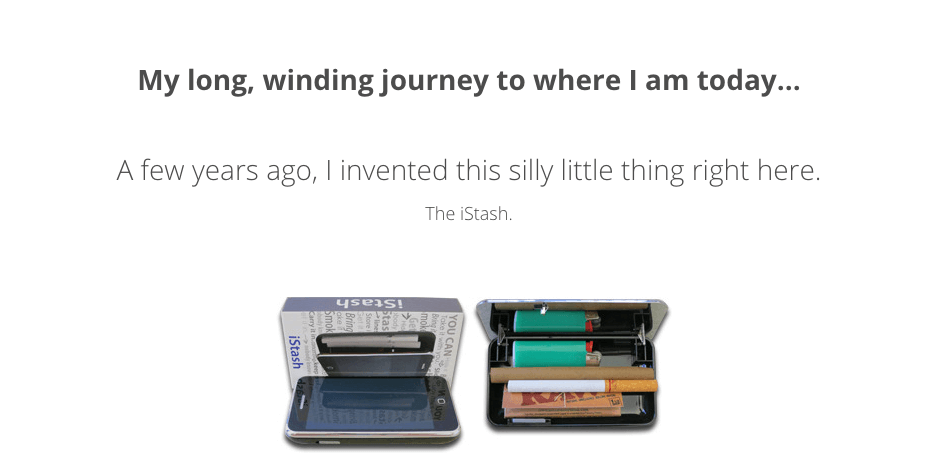 For my niche, I know my readers are here to get personal, actionable advice on starting a side business. And so I show them that I not only talk the talk, but walk the walk as well.
4. Where should your readers go next?
The last (and probably most important) part of your About page is also the one that most people forget about. Telling your readers what to do next!
Do you want them to read your latest blog post? Sign up for your newsletter? Follow you on Twitter? If someone has made it all the way to the bottom of your page, why leave them alone now?
I know that if someone's made it to my blog's About page, they probably just met me.
Which means I don't want to ask anything too taxing like signing up for a newsletter or following me on social media. Instead, I want them to get to know me better, so they can do that on their own.
That's why my Call-to-Action (CTA) is simply to read more of my best content.
I know that the value I'm creating will hopefully get them to stick around, but at this point, I still need to earn their attention. Whatever you choose is up to you, but don't forget to think about the context of the person you're talking to.
How to write a Contact page for your blog
Another often overlooked page that you'll want to include on your blog is a simple way for people to contact you.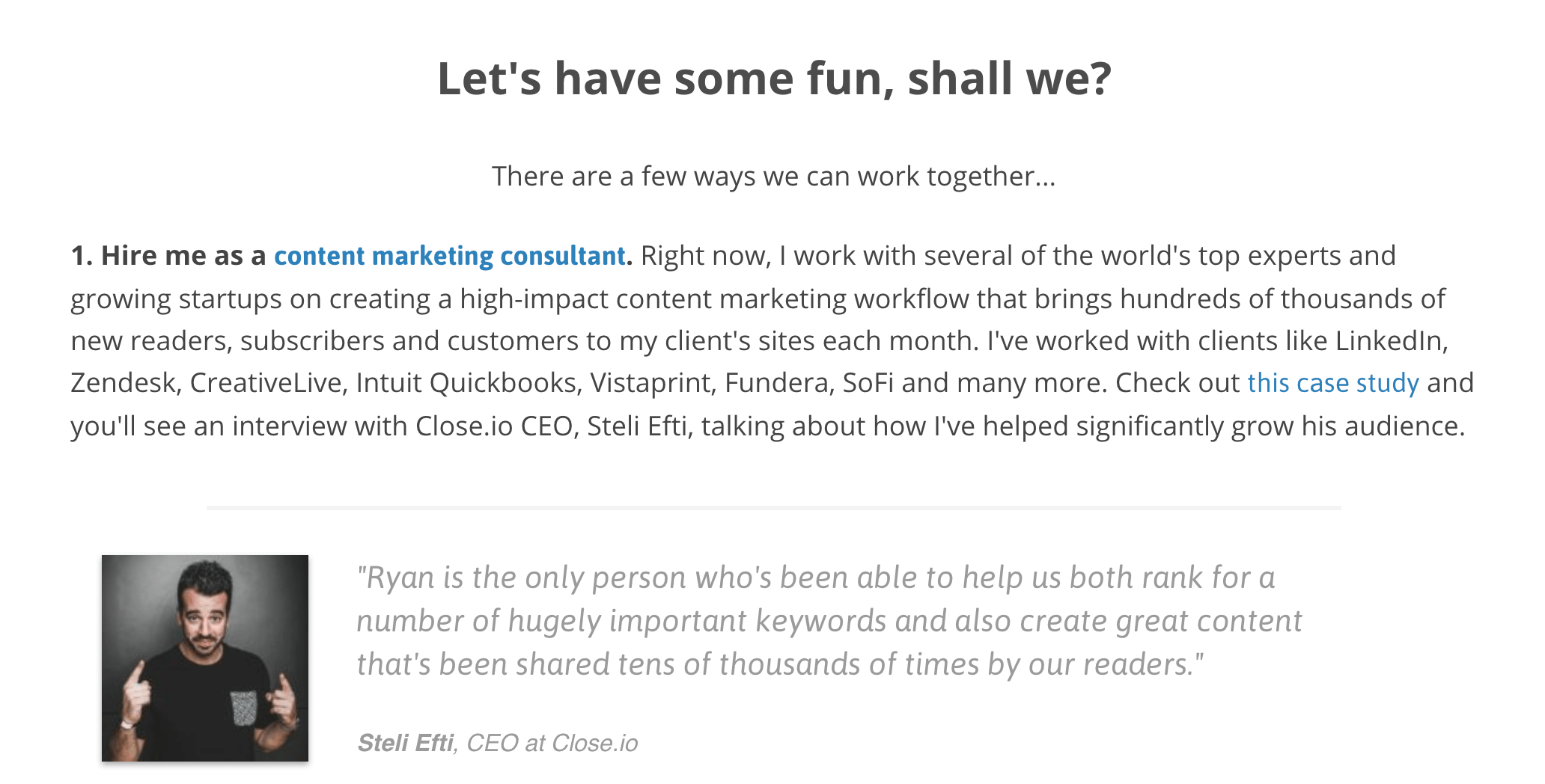 While mine goes into more depth, your Contact page can be as simple as having your email and social media accounts listed on a page. Or, if you'd rather not have your personal email out there for anyone to find, you can include a contact form.
If you're on WordPress, one of the best ways to do this is to use a form plugin like WP Forms, which lets you create custom contact forms just by dragging and dropping elements.
When you're making your blog Contact page, it's not enough to just put up the form, however. You need to think about why someone would want to get in touch with you. Can you answer basic questions upfront with an FAQ on your contact page? If you're selling your services, can you tell people basic requirements so you don't waste each other's time?
Draw on your purpose for starting a blog when writing your contact page
For my blog, I know that people reading it might want to hire me to help them with their own content marketing. Which is why I've chosen to make my Contact page more focused around the topic of how to "Work with Me" on my blog. This page says exactly what I do, who I'm looking to work with, and gives opportunities for people to get in touch.
What's so great about this is that I get mostly business-related messages because of this. For everything blog and content-related, I try to get people to stick to comments and social media. This way, comments are public and other readers can learn from them and engage.
Think about what types of communication you want your readers to use and for what. You can use your Contact page to set those expectations right away.
If you want to spend a little more time tuning up your new WordPress blog and experimenting with the design of your blog, then check out these tutorials:
Thanks for reading my post about how to start a blog! Check out more on my blogging collection page.
---
Want my Free Course: How to Start a Profitable Blog in 7 Days?
Enter your name and email address and you'll get instant access to my course that's been featured on Forbes, Business Insider and Entrepreneur.
---
Alright, now it's time to move into the most important aspect of why you chose to learn how to start a blog in the first place…
Creating strong content that'll bring you readers and help you eventually to make money blogging.
4. Write your first blog post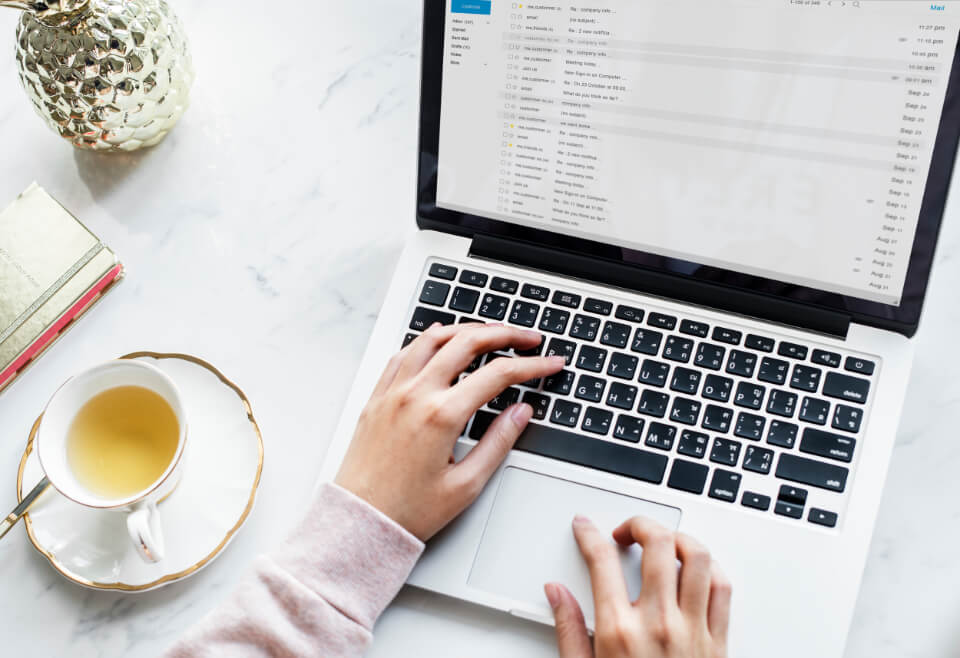 You don't read a blog because it looks nice. You don't read a blog because they publish frequently. (Although those both help).
You read a blog because you care about what it says.
Before you get too far down the road of learning how to start a blog and writing your first blog post… you need to answer one simple question: Why?
Why do you care for the topic you're blogging about?
Why should other people listen to what you're saying?
Why is this a topic that you can add value to?
To answer these questions, I like to think of a blog like any other business and pick a clear niche.
What is a niche? And why does your blog need one?
A blog niche is more than just a topic. It's the approach you're going to take, the audience you want to go after, and the way you're going to talk to them and position yourself as an expert.
A niche doesn't have to be your passion (although it's definitely easier to stay committed to starting your blog when you're passionate about it). But it does have to be an interest of yours. The best niches are exciting enough that you'll be motivated to continually post about it, and accessible enough that you can build an audience.
So, whether that means Medieval history, traditional Mexican cooking, starting a drop-shipping business, or knitting tips, is up to you.
The reason your blog needs a niche is that it gives it focus
Your niche is how you'll plan your content calendar, decide on design, and know where (and how) to market your blog. It's also how your audience will find you and how you'll make connections with other bloggers.
Now, if you're unsure, or if no niche comes to mind right away, that's OK. We can coax it out with a few questions.
Ask these questions to determine a smart niche to start a blog in:
What's an interest or dream from your childhood that you find exciting?
What's the absolute best part of your day?
Do you have any hobbies or hobbies that you want to learn?
What is a deeply held value of yours?
What's one achievement that you're incredibly proud of?
Right away, you should have an idea or two for what you could learn how to start a blog around.
Taking it a step further: How to know if there's a business opportunity for your niche
If you want to make money from blogging, you'll also want to do a bit of research to see if there is a market demand for your niche. What this means is: Are people actively searching for what you're writing about? And can you add value and help them in a way that makes you money?
In order to create a business from your blog, you need to solve a problem for people. To do this, I use a simple spreadsheet I call the Niche Market Demand Checker (you can get a free copy of it in my course right here).

Take the blog niche that you're thinking about and come up with 5–10 keyword phrases or topics within that niche that you would write about. So, if we wanted to learn how to start a blog about playing guitar you might choose keywords like "best guitar books", "how to play guitar", "beginner guitar chords", "what guitar should I buy" and so on.
Now, let's learn how to do keyword research. Enter one of those keywords from above into your Google search. If there are tens of millions (or more) results, that's a pretty strong indicator that people care about your topic. But to be extra sure, I like to use a free tool like Twinword Ideas to check the Monthly Search Volume (how many people are searching for this term each month).
Do this for each of your keywords and look at the results. If all of your top keywords have a Monthly Search Volume of 5,000 – 10,000, you've definitely got a potentially profitable niche. If you're too much over that up into the high hundreds of thousands of Monthly Searches, you might want to get more specific with your niche rather than competing with much larger, established websites on more popular subjects.
Brainstorming smart blog post ideas (doing keyword research)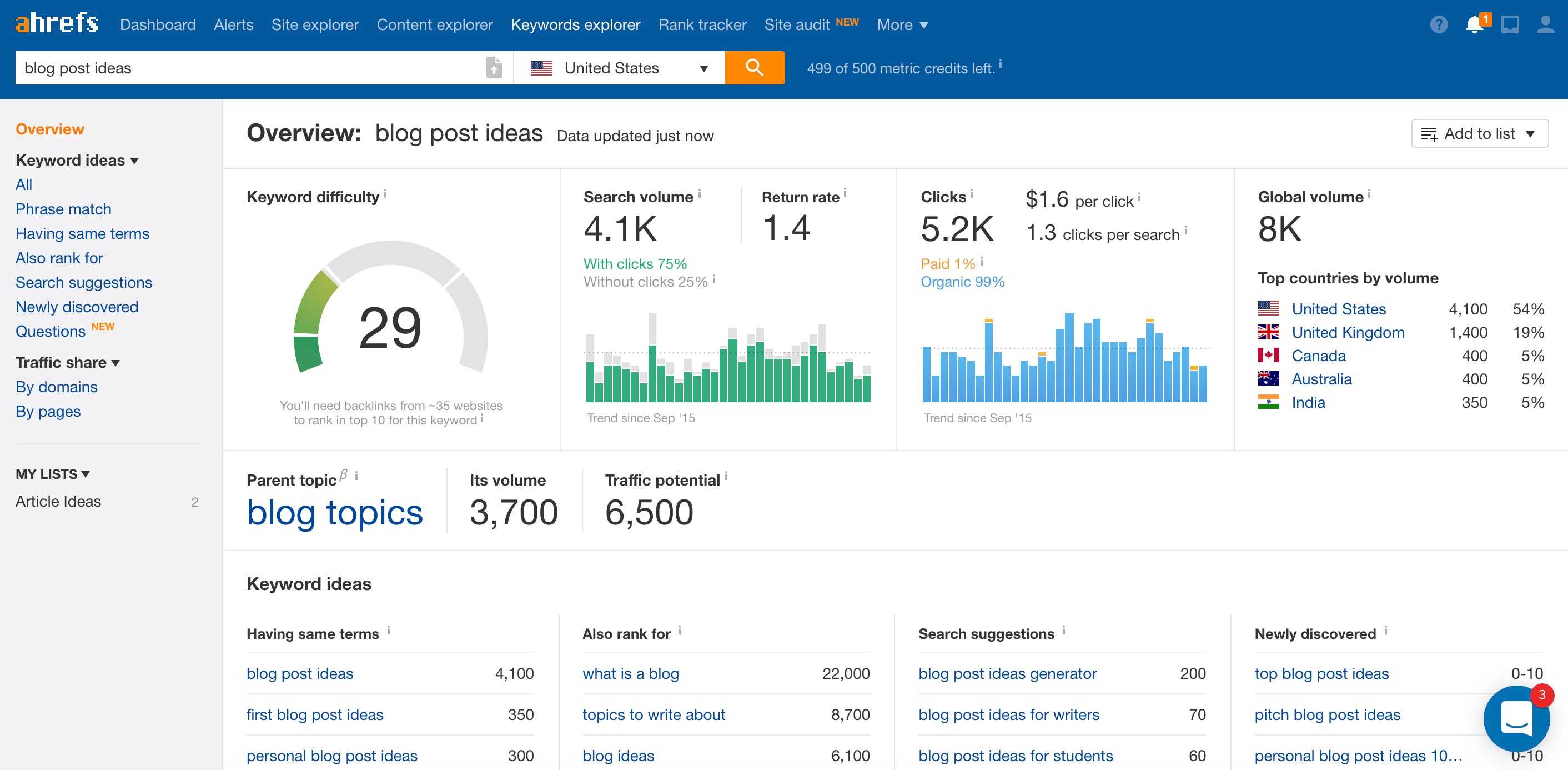 Even once you've established the niche you're going to be blogging about, you have todo keyword research in order to generate blog post ideas that'll actually bring you readers.
So, what about the actual posts you're going to write? The good news is you can honestly write whatever you want! This is your blog after all, and one of the major benefits of learning how to start a blog for yourself—it's your platform to speak and share. But, I can say from experience that the ideas don't always come naturally.
This is where I believe a simple editorial calendar is so important. It's just a basic document to fill out that'll give you a roadmap to always knowing what you're writing next. It frees you up to spend more time on the fun of actually putting posts together—not banging your head against the wall trying to come up with smart blog post ideas.
Here's a simple process I use for coming up with the specific blog posts I write for my own blog:
Brainstorm topics and write them all down: Start by writing down as many ideas or keywords that you can. Aim for things you know your ideal audience would find valuable. What questions are they asking? Where do you have expertise and can help fill in the blanks?
Use a keyword research tool to gather even more ideas: We want a lot of blog post topics to work with at this stage, so let's use a keyword research tool like Ahrefs (pictured above), Twinword Ideas (free), or Moz to help us fill it out. These tools basically just show you terms and topics related to the ones you've already come up with, as well as how much traffic those terms are getting (to show that your audience cares about them!)
Lump similar ideas together: Your list should be growing by this point. So take all those terms and start to refine them. Are there duplicates that you can lump together? Do some just not look right now? Refine and edit it down.
Put your ideas in a spreadsheet and prioritize: Ok, let's get this list a little more organized now. Start a spreadsheet and include your keyword, estimated search volume, difficulty, and opportunity (You should be able to get all this info from the keyword tool you use). Looking at all these, assign a priority to each one either on a scale of 1-5 or a basic High-Medium-Low. Join my free blogging course to grab my editorial calendar template.
Outline content that hits all three key needs: Take your top priorities and set deadlines for them. Look for topics that hit all three key needs: Fits your niche, are genuine needs of your readers, and have some potential to drive traffic to your blog from search engines in the long run. Then write a blog post outline to solidify your main points and begin the writing process.
If I'm still left needing more ideas, I'll turn to even more creative tactics…
Seeing which topics other bloggers in my niche have covered (and which posts have performed well for them).
Taking a look through my most successful posts to see which topics and tones of voice my readers liked most.
Doing more quote roundup series-style posts (like my post about business advice and online business tools) that don't require a ton of original thought and effort from my end.
Chatting with fellow bloggers in my space and brainstorming fresh ideas with them.
Talking about specific lessons I've recently learned or experiments I've launched on my blog.
Reflecting on both the mistakes I've recently made and the tactics that are working today (and why).
By this point, I've usually got a fully restocked content calendar.
But what's important to keep top of mind when deciding how to prioritize which posts you should write first vs last, is how much potential traffic you could stand to drive from eventually ranking well in organic search for that topic.
Now you're ready to write your first blog post
Once you've decided on the first blog post you want to write, you'll navigate to the "Add New Post" section from your WordPress Dashboard.
Go to Posts > Add New which will look like this right here: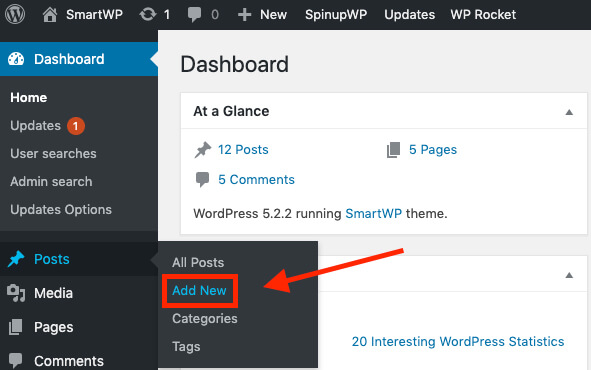 Next, you'll be taken to a brand new article page that'll look like this (a totally blank canvas ?):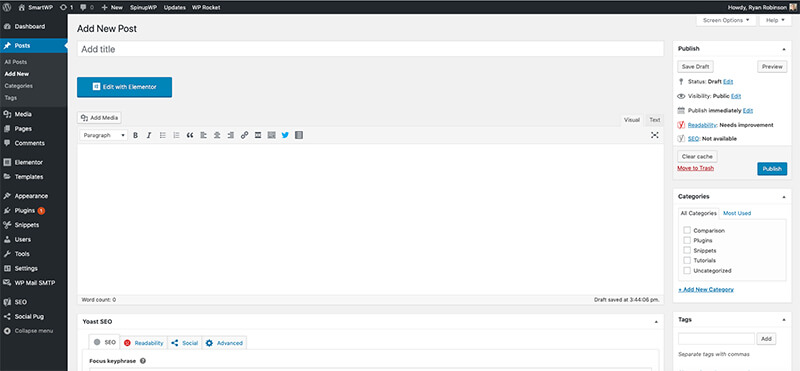 Writing a blog post headline that encourages readers to click through
One of the primary reasons you chose to learn how to start a blog was to attract readers, right?
Well, it pays dividends to put some time and concerted effort into writing headlines that'll be interesting, engaging, and most importantly—deliver on the promise of what your blog posts are actually helping the reader to accomplish.
So let's say after doing some keyword research, you've determined that your hiking blog should start by breaking down some underrated hikes in Northern California.
You'd click into the "Add Title" bar on your new post page and type in a title like…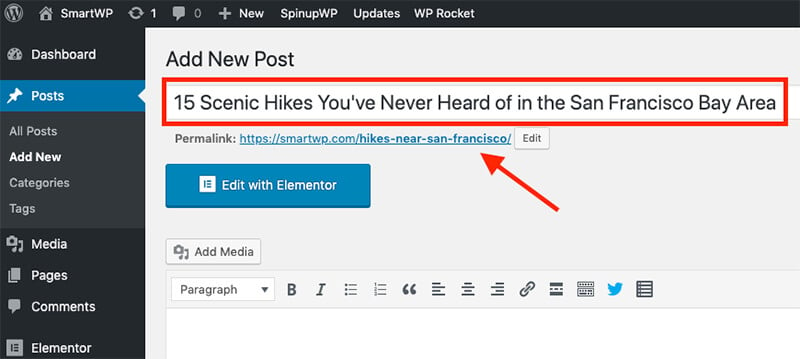 As a starting point to writing strong blog post titles, learn by observing the headlines of other successful bloggers in your niche.
Do they often lead with numbers? How many of their article headlines include parentheses? Does it seem like a best practice to capitalize the first letter of every word?
Check out a few of the most recent headlines from my blog so you can get some inspiration on how you might want to structure your headlines.
At first when I chose to learn how to start a blog and explore writing a blog post, I had no idea how to write compelling headlines. Today, I've developed a formula that includes several key traits that work very well for attracting readers in my space of blogging.
My essential elements of writing a successful blog post headline are:
Lead with a number (like 10, 32, 55 or 101) to capture a reader's attention
Use a blend of emotional, common, uncommon and powerful words to make the headline flow nicely
Place a part of the headline within parentheses to make it stand out more
And most importantly… make sure your headline matches the intent of what your reader is hoping to achieve
If you're unsure whether or not you've written a strong headline, take it for a test drive by using the free headline analyzer tool from CoSchedule. It's super cool—you just paste in the headline you're thinking about using, and it gives you a score on a scale of 0 to 100 (with 100 being a truly perfect headline), based on their analysis of millions of headlines.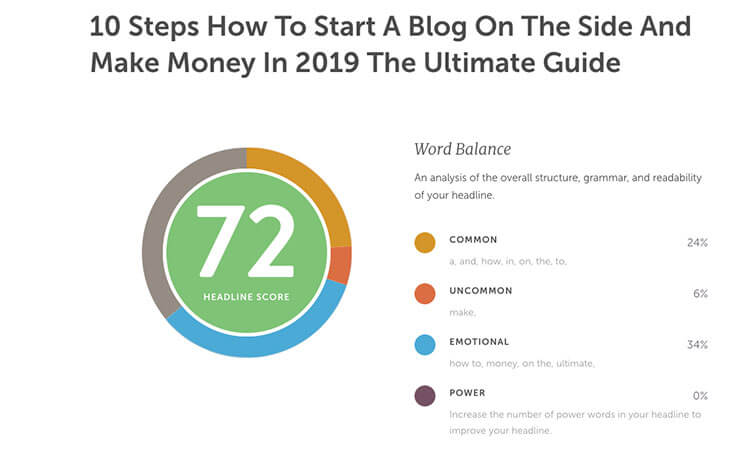 You'll get better at writing headlines as time goes on and you do more of it.
But if you're really unsure of how to title a new post, then do a Google search for the target keyword phrase you're going after and gather inspiration for the ways other titles are written—be sure not to directly copy other bloggers, but that'll point you in the right direction.
Choosing an SEO-friendly URL
It's extremely important that you customize the URL of your new post, if you hope to ever rank well in organic Google search results.
Taking the example pictured above, I'm trying to rank the article "15 Scenic Hikes You've Never Heard of in the San Francisco Bay Area" for keyword phrases like "hikes near San Francisco," so that's exactly what I've chosen as my post URL… /hikes-near-san-francisco
Here are a few more URL writing pointers:
Remember to separate each word in a new post URL with a dash (for easier readability)
Keep it short at no more than 3 – 5 words in length (less is better)
Avoid the use of numbers unless there's a very compelling reason otherwise
Always, always, always include your target keyword phrase
Crafting a compelling introduction to your new blog post
You have one or two sentences to convince readers your new post is worth their time.
Here's a sample blog post introduction I just wrote in less than two minutes for our hiking example: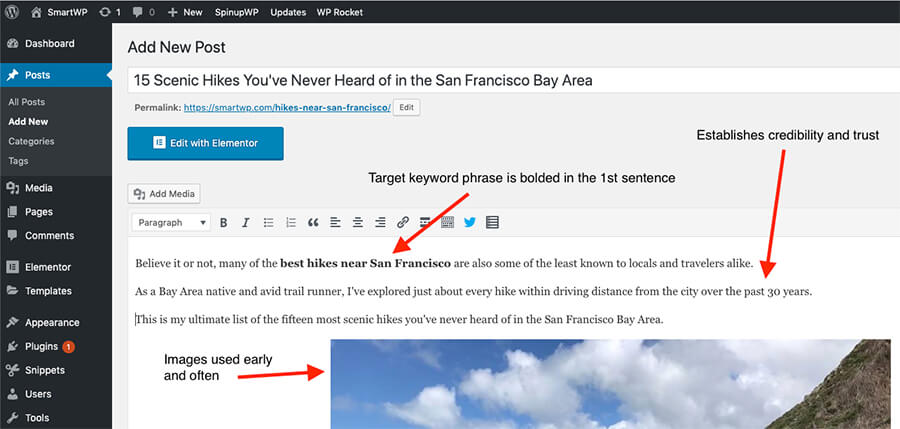 As you're learning to write a blog post that keeps readers engaged, here are a few do's and don'ts for crafting a strong introduction:
Do:
Use colorful language
Open with a startling statistic
Start with a quote
Use drama or humor
Leverage eye-catching formatting (like bold and italics)
Don't:
Use a cliche that'll leave readers rolling their eyes
Bury the lede (failing to tease the most interesting point in your article)
State the obvious
The easiest strategy for crafting a smart headline is to answer the who, what, where, when and why as soon as possible.
And this may sound counterintuitive, but another trick is to start with your conclusion first. In the age of short attention spans, people have grown tired of wasting time on clickbait blog posts that go nowhere.
The quicker you can establish relevance to your reader, give them a strong reason to believe they'll find what they're looking for in your blog post, the more likely they'll be to dig into your piece and share with others.
Optimizing the design and layout of your blog post
Ultimately, what looks "good" is subjective and up to you—based on what you think your (future) readers will resonate most with.
However, there are a few time-tested design principles and tips I can offer on constructing an appealing blog post layout (that's easy for readers to digest) from my years of practice.
1. Make your blog posts readable
Design isn't about crazy colors, multiple fonts, and tons of images and videos. It's about making the experience of your reader as enjoyable as possible. That's why the first thing you should think about when it comes to transitioning from the basics of learning how to start a blog over to perfecting your design, isn't what you can add. But what you can take away.
White space or negative space is so important to the legibility and readability of your blog. So don't start by cramming a bunch of design elements everywhere. Look for ways to make things flow easily (a good WordPress theme should do this for you).
Next, make sure your font size is big enough. 12pt is fine in a Word doc, but for your blog you'll want to go 16pt or higher. You'll also want to be careful with line length. Most designers say the ideal length of a sentence on your blog is 50–85 characters as it helps keep readers moving through the post.
I'm on the higher end of the spectrum, but it works well since I write in-depth, long-form content.
If all this sounds complicated, don't worry. We have a very emotional response to good design. Try some fonts and spacing options out and see what feels good to you.
Check out my guides on how to change font size and change font color on your blog for a more in-depth tutorial on tweaking your visual typography settings.
2. Always include a relevant featured image at the top of your blog post
The human brain has two ways it remembers things: verbally and visually.
If you can combine the two at the top of your post, you have a better shot at people remembering you and becoming a fan of your blog. What I mean is that you should always have an image at the top of your post that relates to it.
Take for example, the featured image from this guide about how to start a blog (at the top of this post).
By including a relevant image at the top of the post (and superimposing the title on it), I'm making a stronger connection with my reader.
Pro tip: When you're still learning how to start a blog, don't worry about investing in custom designed images
Now, you don't need to always put text over your image. Anything that's relevant and works with the theme of the post is good enough as you just start blogging.
3. Use frequent sub headers to break up your text
Readers get tired quickly. And looking at a giant wall of text is intimidating and can make people leave your blog.
That's why I suggest including a heading or sub-header every 300-500 words. Some people say it should be even less than that, but I think it depends on your niche and how long your posts are. As always, do what feels natural to you.
I also try to include images around each heading in my post to break up the flow of text—like I've done throughout this article.
4. Use styling to emphasize key parts of your post
Good blog design guides your reader through the new post. And one of the easiest ways to do that is to emphasize key parts with bold or italics like I do frequently within this guide.
Notice how I use bold text to highlight the key phrases I want you to pick up on? And italics to indicate specific words I want you to process?
It's a great tactic, but also one that can be overdone quickly. You can't say everything in your article is extremely important, so use it sparingly.
5. Make sure people know where they are
I get a lot of my blog traffic from organic search. Which means people might not necessarily know who I am when they get to the page. To build a lasting connection with them and make them feel comfortable, I make sure to have a short blurb about who I am at the top of the page. It looks like this: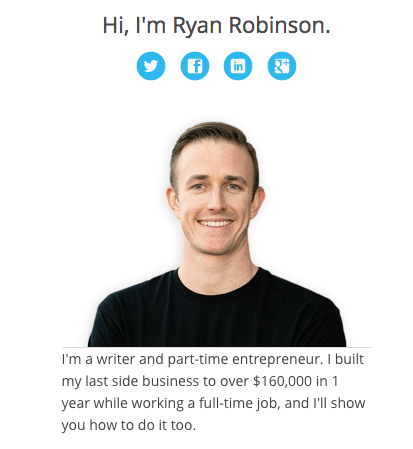 Not only does this let people know where they are, but it tells them what they can expect if they stick around on my blog.
Plus, studies have shown that using photos of real people increases the time readers spend on your blog.
Hitting publish on your first blog post
Once you've written your first blog post, and get it to the 1,000+ word range, you're almost ready to publish!
Take a few minutes to double check on the Yoast SEO suggestions and ensure your blog post is SEO-friendly, which will give you the best chance of ranking well in organic search.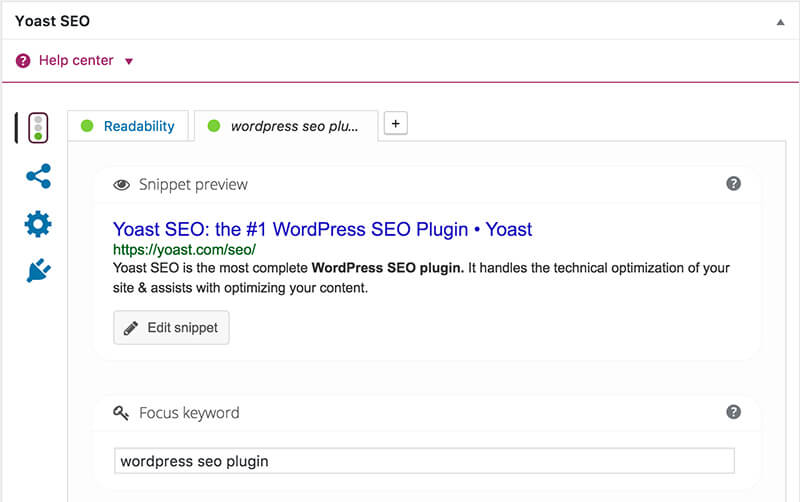 After your SEO settings are dialed in, choose which "Category" this new post will fall under and tick that box.
Then, you're ready to hit publish!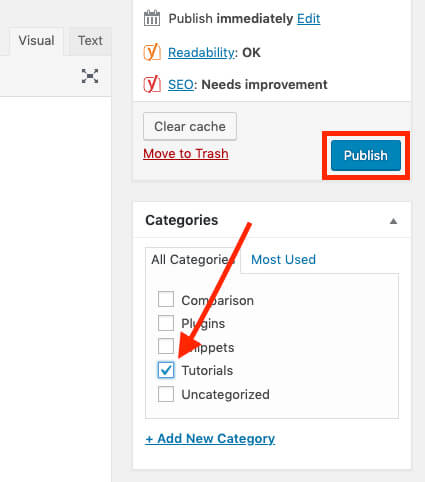 And boom! It's that easy if you allow it to be ?
You've just gone from learning how to start a blog to publishing your first post ?
Now, it's time to talk about what happens after you've published your first blog post…
Promoting your blog and learning how to make money blogging.
---
Want my Free Course: How to Start a Profitable Blog in 7 Days?
Enter your name and email address and you'll get instant access to my course that's been featured on Forbes, Business Insider and Entrepreneur.
---
5. Promote your blog and make money

Now that we're in 2020, we can look back and see that my blog brought in 4.4 million+ readers last year.
We're going to use my experience to talk about going from learning how to create a blog, to driving millions of readers to my content.
If you've made it this far, you should already be in fantastic shape on your journey of learning how to start a blog, picking up the basics of writing compelling posts and creating a beautiful design for your website.
But there's one last piece of the puzzle that hardly any other bloggers openly talk about: Promotion.
What do you do once you've hit publish on your first blog posts?
Well, this is the exact reason I'm hired as a consultant by companies like LinkedIn, Zendesk, Adobe, Close, Gusto, Intuit and more—to not only write in-depth content for their blogs, but to teach them how to promote their content, bring in new readers and even make money from their blogs.
So you've learned how to start a blog… How do you drive traffic now?
It's a question I hear time and time again. And it's one that separates the great blogs from the ones that are only read by your mom and a few spam bots. If you're looking to drive traffic and build a successful business from your blog, you need to know how to promote your posts.
In fact, I'm a strong believer that you should spend more time promoting a post than you did writing it.
But where do you start?
Here are a few of the best ways to start sharing your posts and getting in front of new readers. And if you want even more strategies, here's my guide to learning how to drive traffic to your website where we dig even deeper into the tactics I've used to grow my blog to millions of yearly readers.
Using social media to promote your blog
The obvious first place to turn to is social media. Facebook, Twitter, Pinterest, LinkedIn, Reddit, Instagram, Snapchat are the biggest networks today. Whichever platform best suits your niche and audience interests, is the right one for you. And that's an important note.
There's no point in trying to promote your blog posts on every social media platform.
Look for the social channels that give you the best return
For Michelle Schroeder of Making Sense of Cents, she told me Pinterest has been her #1 source of traffic for years and brings in more than 25% of her readers. Same thing goes for the husband and wife team behind Chasing Foxes who have used their own techniques on Pinterest to drive millions of readers a month:
"I learned that Buzzfeed will put out multiple images for a post and so I decided to do the same thing. I'll create 5 or 6 Pinterest pins per post with sometimes different titles or images. Once we started doing that, that's when I started to see a lot of traffic come through."
The key thing here is to experiment and see what works for you.
Each social network naturally appeals to a certain niche and a certain type of reader. This is a pretty broad statement, but generally speaking, here's what works best on each social platform:
Facebook: Videos and curated content
Instagram: High-res photos, quotes, and Stories
Twitter: News, blog posts, and GIFs
LinkedIn: Professional content and career news
Pinterest: Infographics, step-by-step photo guides, visual content
Reddit: Comments about topics in your niche
It's a lot. But luckily there are lots of tools that can help you manage your social media posts throughout the week. In fact, with the right tool, you should be able to promote all your posts across social in just an hour or two a week. Here are my favorites:
Buffer: One of the easiest ways to schedule social shares in advance for Facebook, Instagram, Twitter, LinkedIn and Pinterest. Their browser plug-in is also great for quickly adding interesting posts you find to your social promotion queue.
Hootsuite: If you want something a bit more in-depth, Hootsuite is a powerful social sharing, scheduling, and monitoring platform. It's probably a bit too much for a beginner blogger, but is a worthwhile option to check out once you start to grow.
Gain App: If you work with multiple people on your blog, Gain is a great tool for collaborating and controlling who posts what from your account. It's a bit more expensive, but their workflows can save you a ton of time.
Forums and message boards for bloggers
Often, just throwing your ideas out into the social media void isn't very effective. Instead, being a part of targeted forums and online communities can give you a way better return on your time. If you find the right ones.
Look for a topically relevant group to join. For example, if you're making a blog about photography, you could consider joining Facebook groups like Nikon Digital Camera & Photo Enthusiasts (26,000+ members), Nikon D750 Users (27,000+ members) and Nikon UK Photography (13,000+ members).
(I found these groups by searching for "Nikon" and clicking the 'Groups' sort tab at the top of the menu.)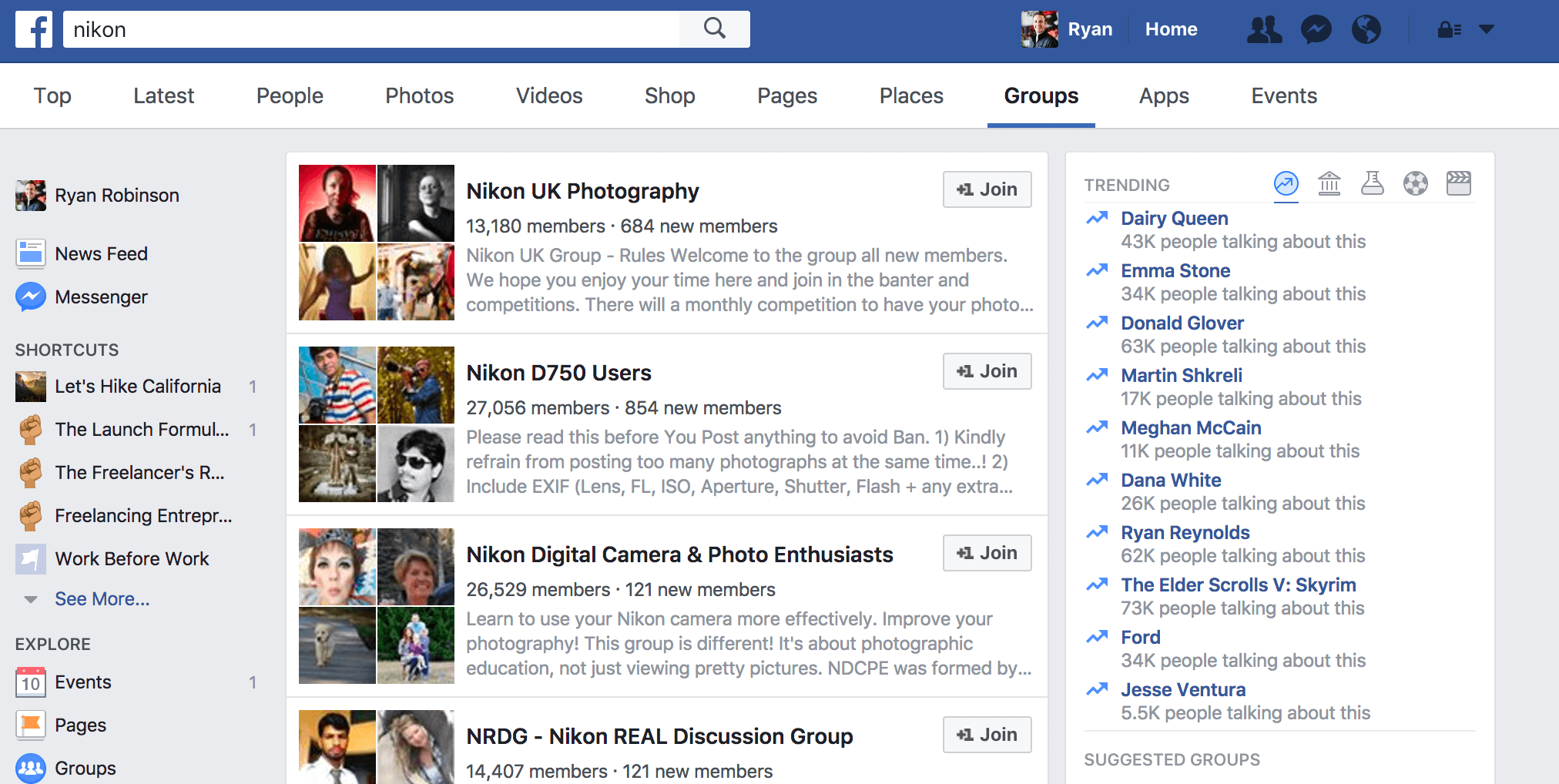 If your blog is relevant to anyone with a DSLR camera, you're sure to find enough people who'd be interested in reading your posts within those groups.
Now, if your search doesn't come up with any Facebook Groups with a decent number of members (5,000+) there are some other options. Look for my general Facebook groups that relate to your niche or groups on LinkedIn or Reddit.
For example, if you're starting a business or entrepreneurial blog, you might want to try posting your blogs to:
Facebook Groups (Entrepreneurial):
LinkedIn Groups (Entrepreneurial):
Reddit Sub-Channels:
Remember, these aren't just places to dump links to your blog posts. You need to provide value before you ask for anything in return. So start by building relationships and engaging with people there.
You never know, you might come up with some great blog ideas in the process.
Guest posts and blogging on sites like Medium, Quora, Linkedin, and others
One of the best things about starting a blog is that bloggers love to help each other out. And guest blogging on other relevant blogs is THE best way to connect with an already established audience. Check out my ultimate guide to guest blogging here.
I've written literally hundreds of guest posts over the past five years, and it's been the single best strategy for promoting my blog content (and building my own audience). I'm not the only blogger that feels this way, either.
As Laurence Bradford of Learn to Code with me told me in her podcast interview:
"When I first started my blog, I started guest posting really early on. I'd make spreadsheets and reach out to editors and other bloggers. It definitely took a while to gain traction. I went through a lot of rejection, but over time it became easier because I'd built this portfolio of other things I published."
Laurence started by going after smaller coding blogs and sites with a similar audience to the one she wanted to build.
It might seem like a lot of work, but those early guest posts are what helped her go from the absolute basics of choosing from the best website builders— to eventually publishing content and growing her own audience. And eventually, as her network grew, she was able to make better connections and start posting on bigger blogs.
For my own blog, one of my biggest early breaks came from my very first guest post going up on the blog for social media scheduling app Buffer. Not only did I tap into their audience of 1 million+ readers per month, but it also associated me with a brand that people in my niche look up to.
However, getting a guest post on a blog like Buffer's isn't easy and I was only able to make that happen because I cultivated a relationship with their blog editor over the course of weeks—by first featuring Buffer as a resource both on my blog and prominently in the content I wrote for my day job at the CreativeLive blog.
But that doesn't mean you shouldn't look for other places with established audiences you can write for… in fact, that's one of your quickest paths to building up a regular readership and getting your blog to credibility faster.
For starters… try reposting your blog posts on Medium—a site that's free to use for readers and writers. You can even look for a Medium Publication that's popular in your niche and submit your post to them.
There's also Quora—a question and answer site that lets anyone respond to user's queries. One tactic I've used is to search for relevant topics in my niche and then answer questions I've already written about on my blog (like this Quora answer about how to get blog traffic that's received hundreds of upvotes and thousands of views). This way I know I'm giving them good value and can even link back to the full post on my blog.
Lastly, if you're more business-oriented in your blog posts, you might want to post them on LinkedIn.
The key point to all of this is that you want to look for places where your audience is and be there. Whether that's other blogs, communities, or social platforms.
Using an email newsletter to grow your blog audience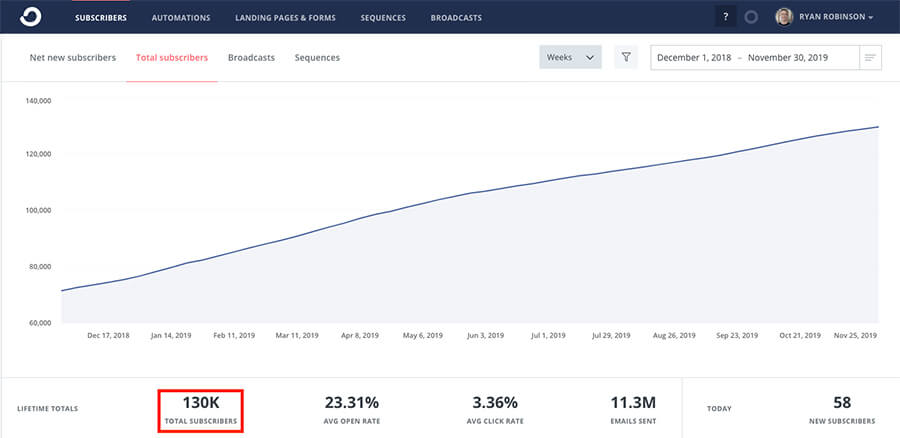 One of the best forms of promotion for your blog isn't to other audiences, but to your own.
An email newsletter is probably the most powerful way to keep readers engaged and excited about the work you're doing and one of the things you should set up as soon as you start a blog.
Building your email list can be relatively easy, too. Simply put a signup form in your posts and on your site. Or, do what Learn to Code with me founder Laurence Bradford did and offer special content for people in return for their email address:
"If you have a blog post on your site and you have some sort of checklist or book they can get just by giving their email that can work really well. I still get around 50 new email subscribers a day just from old posts that have these content upgrades."
Personally, I use a tool I love called ConvertKit to manage the 130,000+ email subscribers on my blog, but Mailchimp is the best free email marketing tool to get started with.
Not sure which email marketing tool to use when learning to start a blog?
Read through my detailed comparison of ConvertKit vs AWeber vs Mailchimp for my take on where you should start and when to upgrade to more robust email marketing tools.
I send my community an update whenever I post a new blog post, have a resource I want to share, or when new podcast episodes go live—and this now ensures my content will quickly be seen by thousands of people right off the bat.
Email marketing has by far been the biggest driver of growth and revenue for my blog, and something I can't suggest enough.
Other ways to promote your blog and get more traffic
Outside of promotion on social and email and guest posts, here are a few other techniques I've personally used to grow my blog audience quickly:
Interview people in your niche: There's nothing better than learning from famous people in your niche. Not only does interviewing them help you build a relationship, but other people reading your blog want to hear from them. You can use these interviews for blog posts or even start a podcast like I did with The Side Hustle Project.
Network with other bloggers or mention their blogs: Early on, you want to get on other people's radars. And one of the best ways to do that is to mention other relevant bloggers and blog posts on yours. For Austin Belcak, founder of Cultivated Culture, that meant linking out to relevant blog posts and then emailing the blogger and saying "Hey! I mentioned you in my most recent article. If you think it's worthy of a share, I'd really appreciate it. But if not, I'm happy to keep sharing yours." This drove the initial 50,000 to 60,000 readers to his blog.
Talk to people about what you're doing: It might seem too simple, but tell the people around you what you're doing. Get excited about your blog and share the things you're working on. As Gaby Dalkin of What's Gaby Cooking told me: "Maybe it's just your friends reading you to start, but you should be responding to every comment and going out and commenting on other blogs. This is essentially your industry and these are your coworkers."
Learn from other top bloggers: If you don't feel ready to connect with other bloggers in your space, at least try to learn from what they're doing—like what can be found in my epic compilation of the best blogging advice. For Silas Moser, one half of Chasing Foxes told me, you should study people who are good at what you're doing: "Look at what works for them and see how you can use it. So many people told us 'you could never make money from a blog.' But you don't have to reinvent the wheel. There are tons of successful bloggers out there that you can learn from and see what they've done and apply that to your niche."
Remember that the only thing standing in the way of starting your own blog is you. It's easy to say that you don't have time or you're tired from work or that it's too much effort. But that effort is what makes starting a blog so worth it.
The bar for how to start a blog—and what constitutes great content—has been raised in 2020. And if you're starting a blog looking for extremely quick results (i.e. earning money from a blog tomorrow), you're going to be disappointed. You need to set realistic expectations.
This isn't to say you can't start a successful blog in 2020. In fact, there are more opportunities than ever. It's just that you need to make sure you're not falling into certain traps early on. Traps like…
You think you can make a bunch of money writing about something you aren't familiar with
You're not committed to publishing regularly and interacting with your audience
You want quick results without putting in the work
Here's a dose of reality: The most popular, successful and profitable blogs in 2020 are all run by people who care deeply about the subject matter they're writing about. They're committed and excited to post. And they know that running a blog is an investment that will only bring them bigger returns the more they keep at it.
And as long as you're on the same page, your blog will be a success!
Thanks for reading my epic guide about how to start a blog! Get even more on my blogging collection page.
Now, on to the crucial component of what makes a blog successful…
Learning how to (eventually) make money from your blog.
8 best ways to make money blogging (monetize your blog)

Last year alone, my blog generated $449,107 in revenue (ignore the $0 in expenses here, you can see those details in my blog income reports).
I share this not to brag, but so that you'll understand I know what I'm talking about when it comes to creating a blog and making serious money with it.
Moreover, I'll be the first to tell you that these kinds of income figures aren't typical with blogging—and that it's taken me six years to reach this point in my blog business.
However, if I hadn't made the decision to create a blog in the first place… and invest years of effort into creating standout content, promoting that work to new audiences, building my community and learning how to monetize my site, then my life would be completely different today.
There's a reason why monetizing your blog is the very last step in my guide about how to start a blog.
That's because today… while you're still just getting started, monetization should not be your #1 focus.
You need to find your readers, start building relationships with them, forming a community around your blog, and keep delivering value (in the form of content) before immediately trying to sell them on an online course, buying your freelance services, or otherwise.
Blogging is an investment that can pay massive dividends, but it's a long-term payoff
Even still, it's good to have an idea of which ways you'd like to make money blogging as you go into this.
Now, keep in mind that when you're just getting started, some of these monetization strategies will be easier than others while your readership is still growing.
Let's dive in!
1. Sponsored Content
What's sponsored content? Generally, it's when a brand, company or individual pays you a fee in order to get their content (or offer) in front of your audience. That means you'll likely need some semblance of a readership base before you're able to broker a sponsored content deal—because the sponsor's going to want to see your readers click through and at least evaluate the special offer you're writing about.
The best way to do sponsored content without alienating your readers, is to weave it into your typical publishing style (like I've done with this sponsored post and this one too), of which I charged $2,500 to write and publish for Skillshare and Slidebean.
Unless you already have a sizable audience on another site (or social account) that you plan to use for driving traffic to your blog, it'll take you some time to grow your readership to a point where sponsored content is a viable monetization option.
Here's a snapshot of my first year of traffic to ryrob.com (in orange) when I started blogging—and my second year of traffic (in blue).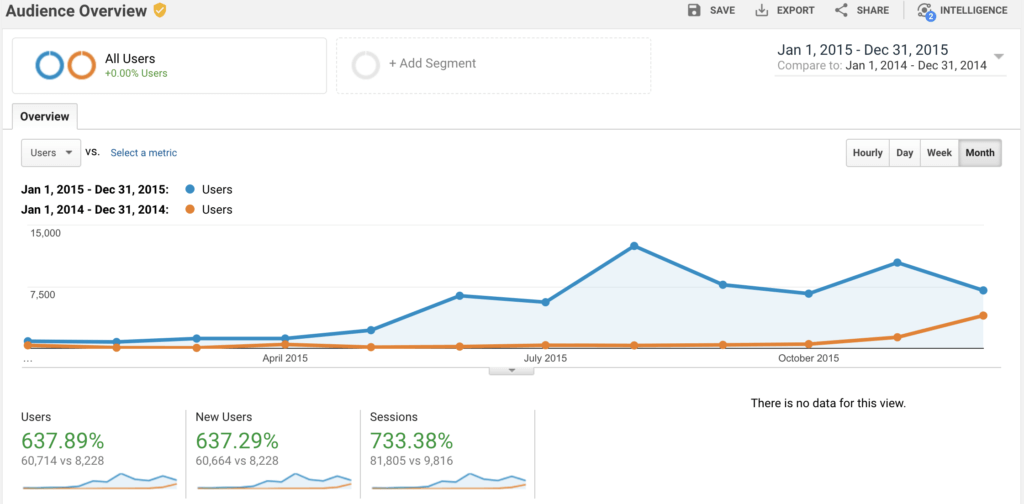 As you'll see, my first year of blogging saw only about 9,000 total readers, but I wasn't really taking blogging seriously and I was still learning how to drive traffic. In my second year, you'll see traffic begins to pick up dramatically as I start to figure out who my audience is and which traffic strategies work best for me—that's when I started driving almost as much traffic per month than I'd gotten in my entire first year.
It was at this point, once my readership grew to around 10,000 monthly readers (on average), that it became a viable option to start commanding a decent rate for sponsored content to be published on my blog and emailed to my couple hundred subscribers.
Tune in to my podcast episode with Preston Lee from Millo.co, who's mastered the art of landing blog sponsorships for his side hustle blog… he regularly books $15,000/mo in sponsorships from top brands in the freelancing and design industries.
But, there are much quicker ways to start monetizing your blog. Like…
2. Freelancing (Selling Your Services)
If you want to start earning from your blog right now, then selling your services is going to be your lowest effort option by far. In fact, I still freelance as a blog monetization channel today: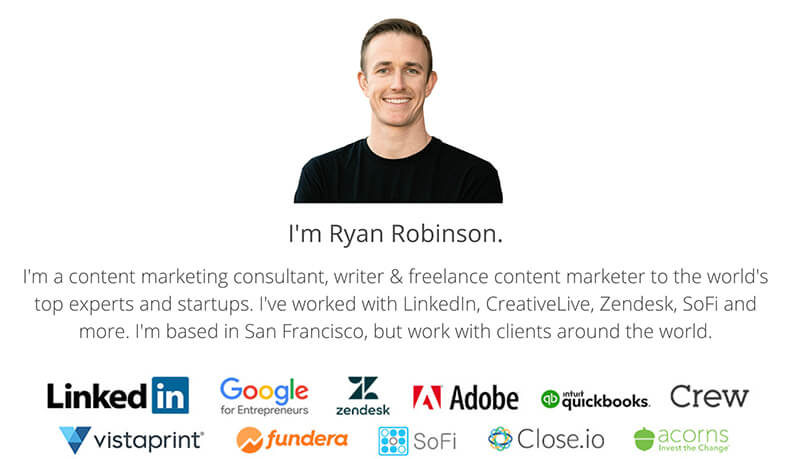 All you really need in order to land your first freelancing client, is a strong enough pitch, which is where a blog will help significantly. You'll want to build out your key pages (About, Contact, Hire Me) and showcase at least a couple examples of the type of work you've done that you'll soon be pitching freelance clients on.
And if you don't have those work samples yet… don't let that hold you back. Spend a few days right now to create those example articles, designs or other deliverables and host them on your own blog as if they were a project you got paid to produce.
If you have a skill that you can sell as a service, then you're already prepared to go out and start pitching potential clients. That skill could be something like…
Writing
Design
Photography
Marketing
Developing
Public relations
Social media management
Virtual assistance
Community-building
SEO or paid advertising campaigns
Business strategy or project management
The list goes on… because any skill can be monetized
Today, I still regularly book new freelance clients (like LinkedIn, Zendesk, Adobe) for $5,000/mo or more and I'm brought on to advise and execute on creating content marketing campaigns for their blogs. But that's where I am today… not where I started.
My first freelance client paid me $250 for each article I wrote for their blog. They discovered me because of my blog, and liked the style of content I was producing, so it was an easy decision for them to hire me as a freelancer to ramp up their publishing at an affordable rate.
After having this realization, I started going out and pitching other similar (non-competitive) startups and online brands that clearly needed more business-related content for their blogs… and over the course of the next year, I continued to slowly double the prices I'd charge per article. I'd add new "extras" as time went on and I built a larger community & brand for myself too—always experimenting with my offer to see what clients would pay more for.
If freelancing sounds like your cup of tea, you'll want to grab my (free) collection of all my best resources, tools and templates for freelancers. That resource bundle is the culmination of more than 5 years of refining my freelance contract template, proposal template, cold email templates that convert new clients, and more.
I also put together an in-depth guide to getting started with freelancing that you'll want to read and another great foundational read about how to develop a pitching process that works for your type of business, is my freelancer's guide to cold emailing.
Oh! And if you want to try out some of the websites where freelance clients are already looking for talented help, here's my list of the best freelance job sites.
3. Online Courses
Once you have a skill (or experience) that others also want to learn, it's relatively easy to package your best advice, strategies, tactics and tutorials into an online course where people can pay for access to accelerate their learning much quicker than they otherwise would going through the stumbling process of learning through trial and error.
Last year alone, I generated over $20,000 from the launch of a premium online course about validating business ideas.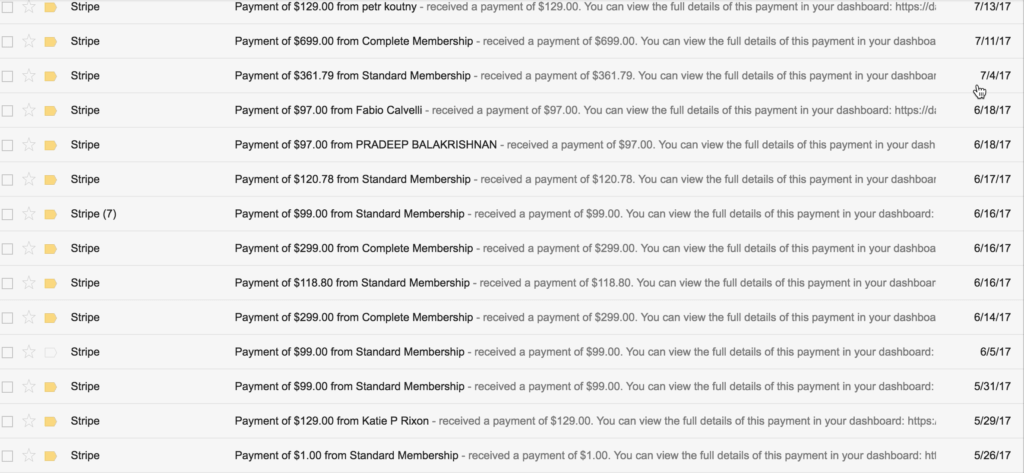 What's great about online courses as a monetization path for your blog, is that you don't need a huge audience in order to start earning from course sales.
Once you have even just a handful of readers on your blog, encourage them to interact with you—ask questions, offer free downloads, share advice and get them to either join your email list or to personally reach out and connect with you.
Learn about their biggest challenges (as related to the broader topics covered on your blog). Pinpoint the ways you can uniquely help them by leaning on your own skills, knowledge, experience.
After you've determined the right way to help a handful of your readers solve a real problem they're encountering, pitch them (individually in a very personalized manner either over email or ideally on the phone) on pre-ordering your course and getting direct coaching from you in the meantime while you work on building out the actual course material.
This'll do 2 key things for you:
First, asking people to actually give you their hard-earned money will validate that you're solving a real problem
Second, you'll get live test subjects to help build and curate your course content in real-time over the coming weeks—and your course can emerge as the result of lessons learned and tactics proven from your direct coaching time
I highly recommend reading and following my idea validation framework where your focus remains on pre-selling your course to a small community of early adopters (or beta testers) and you interact with them one-on-one while building out, testing and refining your course material to make sure it does a good job of solving your reader's challenges.
This is the exact process I've followed to launch each of my online courses (some to very small audiences of just a few hundred people) and earn five-figures from every course launch over the years.
Take your learning a bit further in my interview with Adda Birnir, founder of Skillcrush where she's built a series of online training courses that have reached more than 15,000 designers and developers over the past couple of years.
4. Traditional Blog Advertisements (Joining Ad Networks)
On my blog right now, you'll see a small advertisement in the right sidebar just below a little information about me…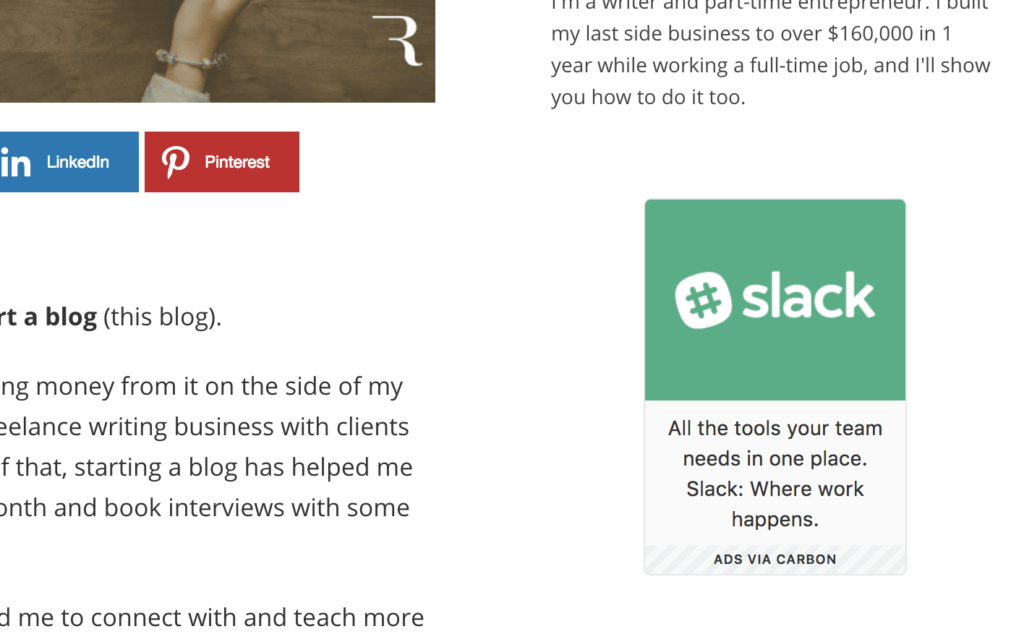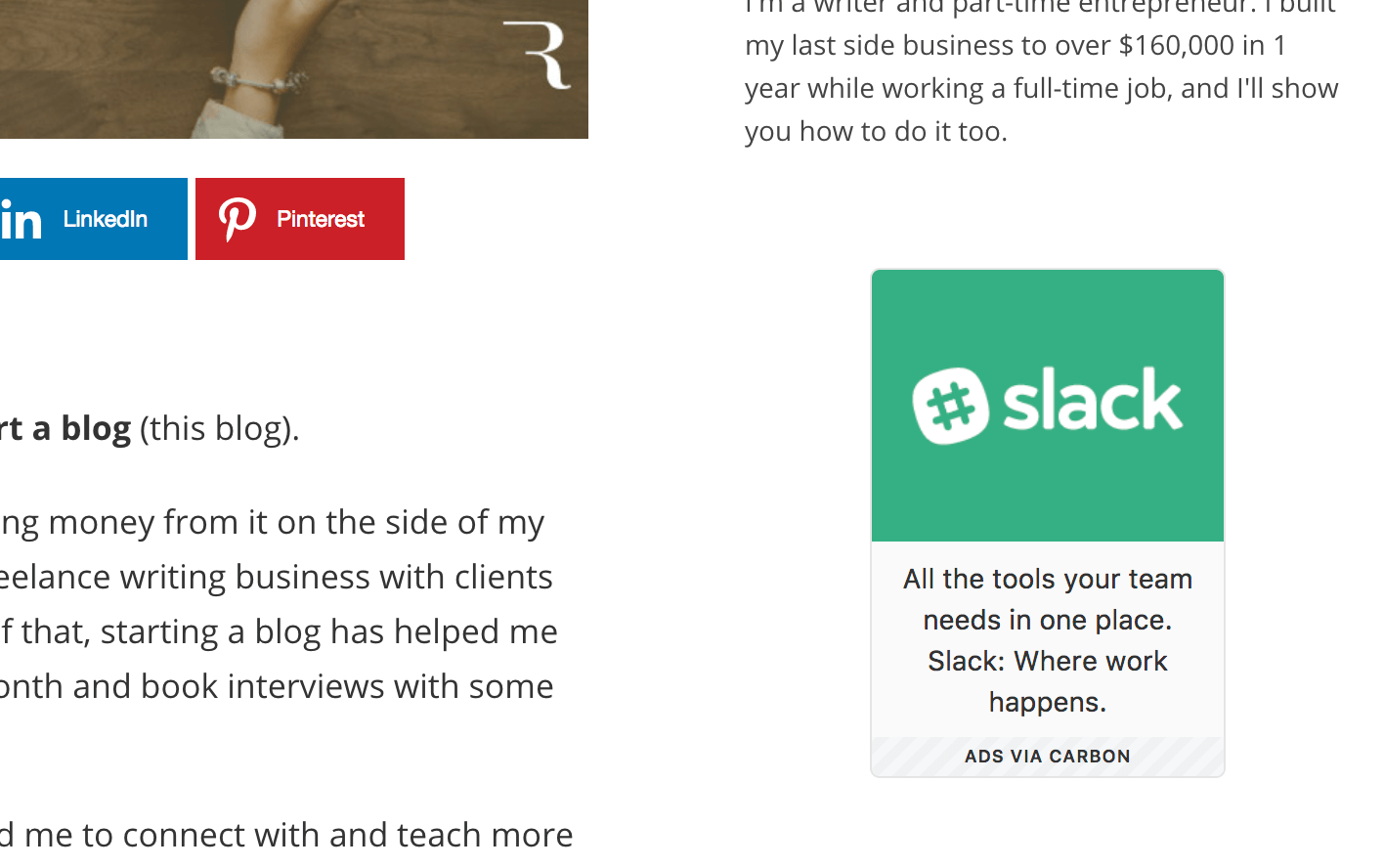 I'm a member of a small ad network called Carbon Ads, that partners with bloggers and pairs them up with ads from high-quality startups like Slack, Asana, Freshbooks, Monday, Upwork and others. I also have small ad placements from them throughout a few of my highest trafficked blog posts.
Even still, with around 300,000 monthly unique readers on my blog, I only earn about $1,000/mo from being a member of this ad network. Plenty of other ad networks offer marginally higher CPC (cost per click) and CPM (cost per 1,000 impressions) rates, but aren't as restricted in the types of brands & products that are allowed to advertise on my site—so I've chosen to take less in earnings in order to stick with the types of brands I want to promote on my site.
Some of the other major ad networks to consider installing on your blog would be Google AdSense, BuySellAds, and Propeller Ads.
All in all, traditional CPC or CPM advertising doesn't become very profitable (at least as a viable source of meaningful income) until you're driving close to a million monthly readers, so it's not a great monetization channel to focus on in the short-term.
But if you figure out the right levers to start generating massive amounts of traffic, this is a very quick way to flip a switch and start monetizing your readership in a pinch.
Check out my interview with Grace and Silas Moser of Chasing Foxes, who regularly earn around $20,000/mo in income largely from ad networks. They've cracked the code to driving insane amounts of traffic from Pinterest very quickly, and offer up a lot of actionable advice.
5. Podcast Sponsorships
Another great way to start monetizing your blog is by launching a (simple) podcast for your readers… and use both your traffic & early listener statistics to go out and book sponsorships from brands that want to reach your type of readers & listeners.
Here's the growth trajectory of my podcast over it's first year: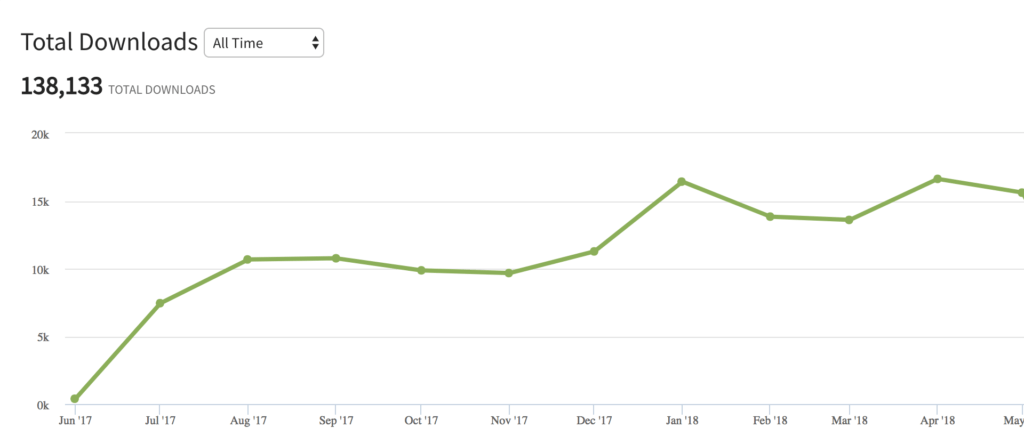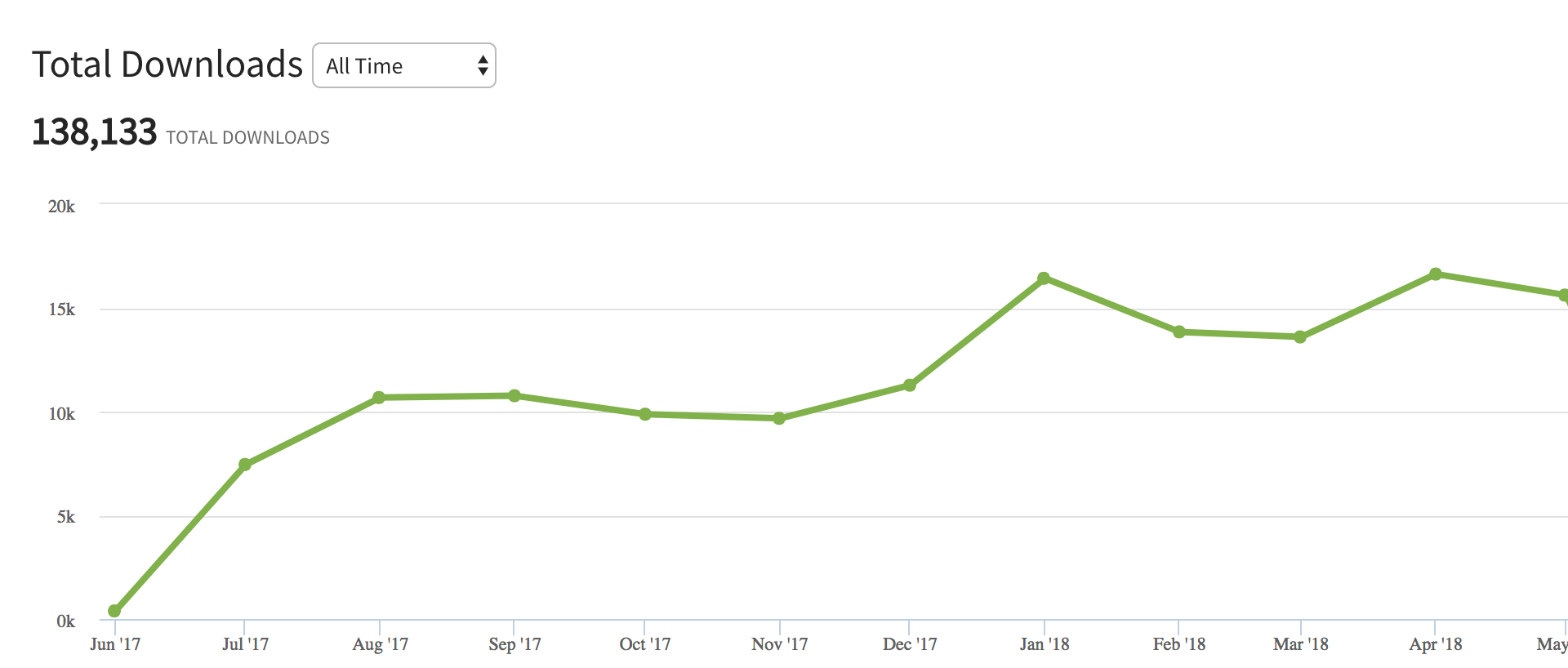 You can even combine podcast ad placement offers with sponsored blog posts on your site to sweeten the deal.
What I like most about podcasting is that it gives me an excuse to interview some of most interesting people in my industry, and depending on the niche you're blogging about, it may be relatively easy to start booking interviews with some of the figures you look up to in your space.
When I launched my show, I already had about 100,000 monthly readers on my blog and 20,000 email subscribers to seed the early listenership numbers. That also helped me sell an early sponsorship slot for 10 episodes to Freshbooks at $500/episode to help fund getting the show off the ground.
That worked for me because of where my blog was already at—but when you're starting out with less traction, I recommend getting a few episodes recorded and launching your show without trying to book a sponsorship in advance.
Release a handful of episodes and ask any guests you've interviewed or mentioned to share with their communities. Those that tune in and like your show will subscribe and stick around. One of the best ways to reach more listeners and grow your download numbers is to be a guest on other (more established) podcasts in your space.
For much more on the mechanics behind launching a podcast with your blog, check out this episode on my show with Michael Sacca of Rocketship.fm, whose grown his show into a $10,000/mo source of side income while he still holds onto his day job in sales and marketing. It's a true masterclass in starting a podcast that you don't want to miss.
6. Affiliate Programs
Every month, I earn a good amount of passive income from the affiliate programs for bloggers that I'm a member of (sometimes in excess of $50,000+).
For example, here's a screenshot of my blog income from just one affiliate program (Bluehost) for the first 5 months of last year.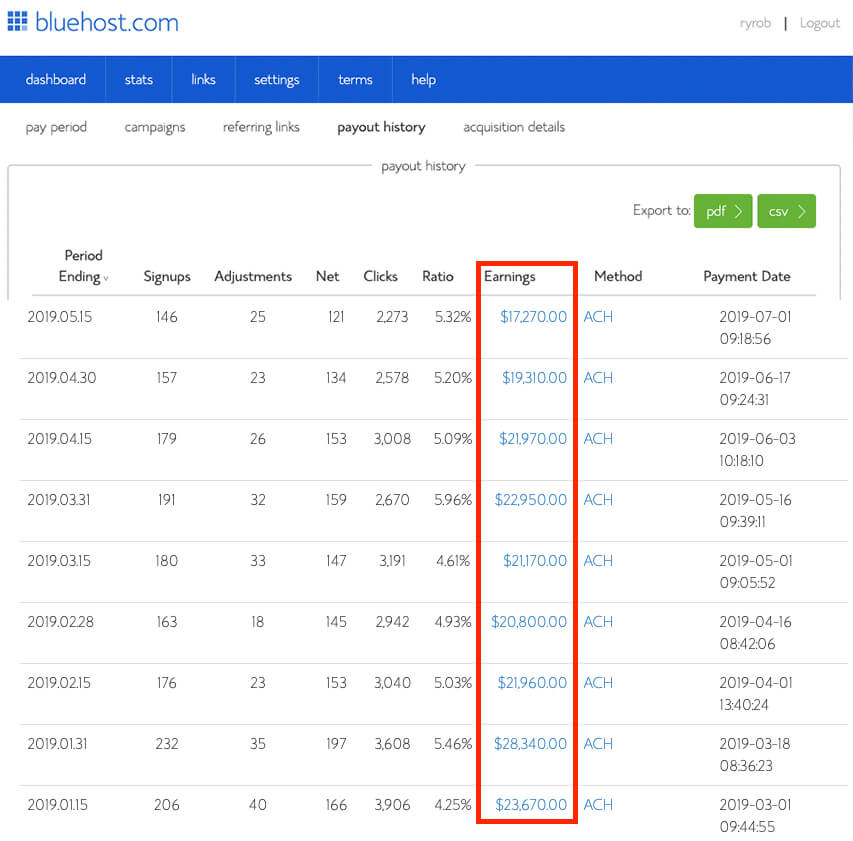 Since starting my blog six years ago, affiliate income has gradually grown to become the largest revenue source for my business—and I've structured my blog to generate affiliate income because of how passive it is once you've done the (hard) work to find a sustainable traffic source for your content.
Here's how affiliate programs work: You get a special tracking link from the company you're an affiliate for. Then, you'll place that link within posts on your blog, emails to your blog subscribers, and weave it in elsewhere that you reach your readers. When someone clicks on that tracking link and completes a purchase, sign up (or occasionally another metric), then you earn either a set fee or percentage of that sale.
You're getting compensated for referring new customers to your affiliate partners.
Some of the biggest brands have affiliate programs. Think global companies like Amazon, all the way down to key players in specific niches like online education where brands like CreativeLive, Skillshare and Udemy have lucrative programs. Here's a snapshot of my recent earnings from just a couple of these programs:

You don't need to be a member of an affiliate network in order to start earning, either.
Take my friend Preston Lee over at the blog and community for freelancers, Millo, for example. A few months ago, he launched a new paid weekly email newsletter for freelancers that surfaces the best gigs of the week for them, called SolidGigs.
Since I have a large proportion of freelancers in my audience, he offered to set me up as an affiliate where I'd earn a set fee for each new paid subscriber that signed up as a result of an email or clickthrough from my blog. The week I sent my first email out to my community about SolidGigs, nearly 100 people signed up to try it out. And that number's only continued to grow over the months, adding more to my recurring income that comes from this channel.
The takeaway here is that you don't need to be confined to just the affiliate opportunities you find on the major networks like ShareASale, Rakuten, Flex Offers, Commission Junction and others.
Once you've built even a small readership… if they're engaged and tuned in to what you have to say, that's ammo to go out and broker an affiliate deal with individual business owners, startups and brands that want to surface their products to your kind of audience.
For a LOT more on the subject of monetizing your blog with affiliate income, check out these guides right here on my blog:
Now, let's talk about going from starting a blog to generating income with physical products and software tools.
7. Physical Products (eCommerce) and Software Tools
Similar in concept to launching an online course to your blog audience, another great way to monetize your audience is by selling a physical product or software tool to the people in your community—especially if you'll be starting an eCommerce store to sell products that are related to what your readers need.
At the end of the day, this one all comes back down to solving the problems your blog readers have.
Take for example the story of Matt Nelson, creator of the We Rate Dogs brand. When he and I sat down for a podcast interview a couple of years ago, he'd just started to monetize his Twitter following of several million people who tuned into the daily barrage of cute dog photos he published alongside witty captions.
Nelson's since grown his blog and social following into a massive eCommerce business selling everything from t-shirts, to mugs, hats, a card game, stickers, dog tags, socks, pillows and so much more. What's even more attractive about this business model, is that Nelson doesn't even need to stock his own product inventory.
He can use print-on-demand services to fulfill orders after they've been placed, and warehouse his goods in order fulfillment centers that stock and ship the more popular items so that he's not packing and shipping products out of his own garage.
What once used to be a much more labor intensive business, eCommerce has become a great way to monetize an audience of readers on your blog.
And on top of just selling to your own audience, you can leverage loyalty programs that incentivize customers to invite friends to purchase with offers like first-time customer discounts, free one-month trials, gifting programs and more. These channels create opportunities for amplifying your message and spreading your products through word-of-mouth marketing efforts that won't cost you anywhere near that of similar advertising fees.
Here's a simple way to think about getting started with your own eCommerce efforts.
If you can build a relationship with 10 early readers and work with them to pinpoint a challenge you're interested in building a physical or digital product for, focus next on repeatedly solving that problem yourself, then develop a plan of action for how you can personally help those 10 people solve that problem in their own unique situations as well. This'll be very manually at first, but that's necessary.
Next, ask these 10 readers to "pre-order" the product from you and work with them through a personal coaching regimen that you'll use to make sure your eventual product has all the necessary features in order to successfully solve their challenge.
At the end of this validation process, you'll emerge with a solution that's built on the foundation of genuinely helping your readers.
Tune in to my interview with Hiten Shah, who's used his personal blog to connect with his target audience and release several profitable software tools as a result of the validation conversations he's had with them.
8. Business Partnerships
Of all the ways to monetize your blog, this is the most unpredictable. Who knows who you'll meet as a result of building your blog? What about future guests on your podcast? The possibilities here for stumbling into partnership opportunities are endless.
As a result of sticking with my blog for several years, I've been able to use it as a tool to meet some incredibly talented entrepreneurs.
I've collaborated with my friend Jory (a writer and content marketer) that I met originally because of my blog, on growing a $10,000/mo content marketing agency together that we both still run as a side project to all of our other work.
I've also launched new websites (like SmartWP) with other established bloggers who have similar audiences as my own.
There's even a former podcast guest who's helping me build a software tool I've envisioned for years.
It's true that there aren't as many ways to authentically engineer the creation of these types of partnerships, aside from growing your personal brand and the reach of your blog… and then being receptive to the creative people & ideas that come your way as others discover your blog.
On the flip side, if there's someone in your space that you really want to collaborate and work with, strategize on a way you can add value to their business first.
Build a community of people you know they'll want to reach too—and then start building a relationship with your influencer before pitching them on a collaboration idea.
Want my Free Course: How to Start a Profitable Blog in 7 Days?
Enter your name and email address and you'll get instant access to my course that's been featured on Forbes, Business Insider and Entrepreneur.
---
? Alright! Almost every guide about how to start a blog stops long before this point.
But, that's not helpful if you're here to build a dependable blog business…
From here on out, I'm going to equip you with the tools (and proven strategies) to go from just starting a blog—to building a true business around your blog—based on my experience growing this blog's income to well over $50,000/mo during many months.
I recommend bookmarking this guide so you can come back to it regularly as your blog grows.
Thanks for reading my tutorial about how to start a blog! Read more on my blogging collection page.
Now, let's keep this blogging train moving.
6. Develop a successful long-term content strategy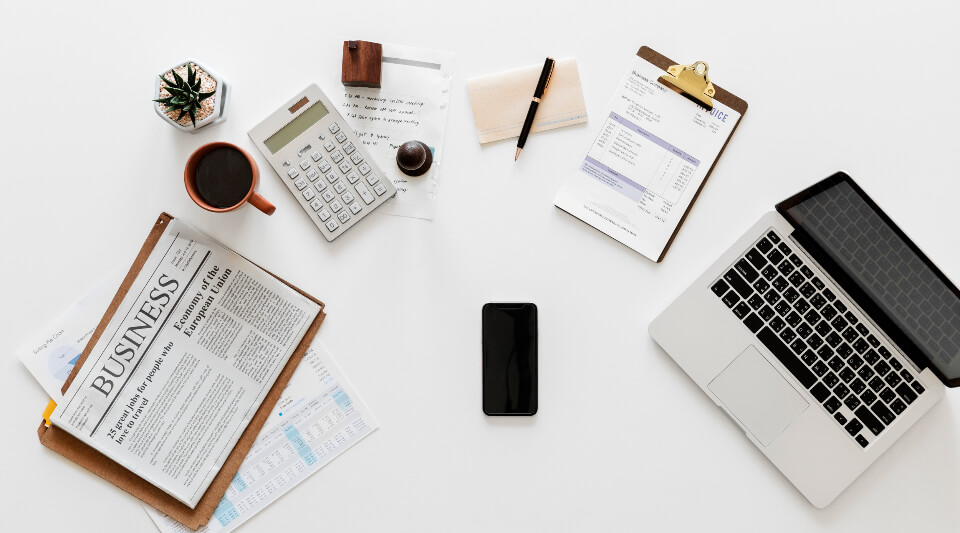 As I said already, most articles about how to start a blog stop at this point.
But I think it's important to not only explain how to get your blog up and running, but to also look at ways to grow it into something you're proud of (and something that can actually earn you a decent amount of income).
Over the past few years, I've grown my blog from a small side project to a profitable site that brings in millions of readers a year.
And that wasn't by accident. I've been lucky enough to work for some fantastic companies and (get paid to) learn about the importance of having a content strategy for your blog. And I've successfully applied those same lessons to my own blog as well.
Moreover, I've learned how to come up with winning blog post ideas that my audience loves to consume more of.
First off, why have a content strategy when you learn how to start a blog?
Creating a "content strategy" might sound like a complex, time-consuming, buzzword-laden process requiring an MBA and a keg filled with coffee. But it's really not.
A strategy is really just an actionable plan for all the things you've already figured out.
If you know your niche and understand your why…
If you know your ideal reader and what they're looking for…
If you know the value you want to give them and your unique angle…
Then creating a content strategy is as easy as solving your readers most pressing challenges.
Better yet, having a content strategy will help you when you're feeling unmotivated (more than just a motivational quote poster can ever accomplish), when you don't know what to write about, or when you're thinking about giving up on your blog.
Here's how to put a basic blog content strategy together:
1. Define your goal for learning how to start a blog
What do you want to achieve with your blog content? Is it to drive traffic and get readers? To get people to sign up for your email newsletter? To get them to download a book you wrote or some other resource?
This goal might change as you start to build your blog, but it's still important to know it early on. As prolific blogger and marketing guru Seth Godin explains:
"You have the freedom to make these choices at the beginning when they're free, fast, and easy. Not later on when you've made commitments."
Once you understand your bigger goal (i.e. why you chose to learn how to start a blog in the first place) we can start to define the mini-wins that will help you get there.
2. Really get to know your readers (and where they hang out)
Your readers determine whether or not your blog is successful. And to write for them, you need to really understand them—which is why it helps if you're also writing for yourself. This guarantees at least an audience of one.
I'm a firm believer that who you write your blog posts for, is equally as important as what you write about.
In a lot of cases, you're going to be your ideal reader, which makes this whole process easier. But in almost every case, it's useful to do a bit of research around the audience you're writing for (heck, you might even learn something about yourself!)
To start, you want to think about the demographics and psychographics of your ideal audience:
Demographics: The quantitative traits of your readers. Think, age, gender, location, job title, etc…
Psychographics: The more "unmeasurable" traits like values, interests, attitude, and belief systems.
Once you've written down these qualities, you can start to come up with an audience persona—a fictionalized version of your ideal reader. So, you might say that you're starting a cooking blog for Chad, a 30–40-year-old stay-at-home dad in Portland, Oregon who values organic ingredients and isn't too worried about food costs.
Now, the next question is: Where does Chad hang out online?
Is he searching for recipes on Google or Pinterest?
Is he a heavy Facebook user or does he prefer niche community sites and forums?
Does he comment on other cooking sites or is he consuming content just to read?
The goal of your blog is to create value for your Chad.
BUT… you can't do that until you know who your ideal reader is and where they spend their time. If you're not totally sure, it's fine if you have more than one ideal reader. It's important to make sure that your personas aren't too broad (as your readers might not know that you're writing for them right away).
3. Decide on your content pillars
When it comes to actually deciding what you're going to write about, it's good to have a few guiding topics that you refer back to. I like to call these content pillars as they're the foundation that holds up the rest of your blog.
Having a few set pillars like this helps keep your blog focused. It also gives you a lens and a voice that you can write from. For example, if you're starting a personal finance blog, your pillars might be:
Personal finance tips and tricks
Interviews and stories from people who've found financial independence
Your take on important financial industry news
The basics of personal finance
How to pay off your debt quickly
Each of these pillars can have 10s if not 100s of blog posts to be written under them. But they also all work together to show that you're a thought leader in your niche.
4. Map out the content you're going to create before you make a blog
Before you launch your blog, you might want to have a bit of content already ready to go. This is optional, and I personally do this both ways with new blogs I launch, depending on many variables.
But if you have a decent sized audience on a social network that you plan on alerting once your blog launches, you never know if your first post might blow up and go viral. In that case, you'll want to have at least a game plan to engage the new readers you get.
As Grace Moser of Chasing Foxes told me on the podcast recently:
"I think it's important to create a number of blog posts before you launch. We did 40 and put them all up on our site when we first launched. If you want to get lots of viewers right up front you need to create that content beforehand. People want instant gratification."
Now, you don't have to go all-out like Grace did and write 40 pieces of content before you go live. It helped that she was working full-time on preparing to start a blog for several weeks leading up to their big launch day.
Even just a post or two under each of your major content pillars is definitely enough, but if writing comes easily to you, it's ok to do a little more. Remember though, it's always better to start small and grow consistently.
You'll learn more about your audience, your process, and what works well as you write and publish more.
And lastly, remember to have fun and be interesting. If you picked a niche that you care about, remember why you care about it. People want to hear your voice and your take on things.
That's how your blog and your content will stand out in the end.
The best content strategy and management tools to start a blog (the right way)
Putting together a blog content strategy (and sticking to it) can be a bit daunting at first.
Luckily, there are tons of fantastic tools to help you stay organized, motivated, and on track. Here are a few of my favorites:
Personally, I prefer using a combination of Trello and Google Docs to manage my content pipeline. Trello because it's so visually appealing and easy to wrap my head around—but a Google Sheet is where I track much of the ongoing promotion work I do to make sure my articles rise in organic rankings.
Here's what my Trello board for managing my blog content looks like: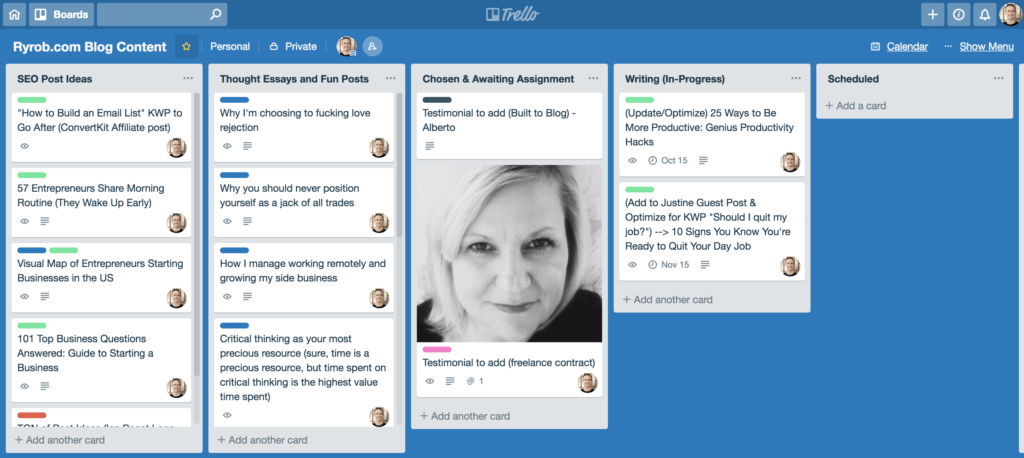 You can see there's various different columns, indicating the stage a post (or even page/post updates) is currently in. From ideas to chosen, in-progress, scheduled and published, I like Trello so much because I get a quick visual snapshot of my content pipeline without having to wade deep into a Google Sheet.
After I decide an article is approved in my editorial process, it does make it's way into my Editorial Calendar Google Sheet, like so: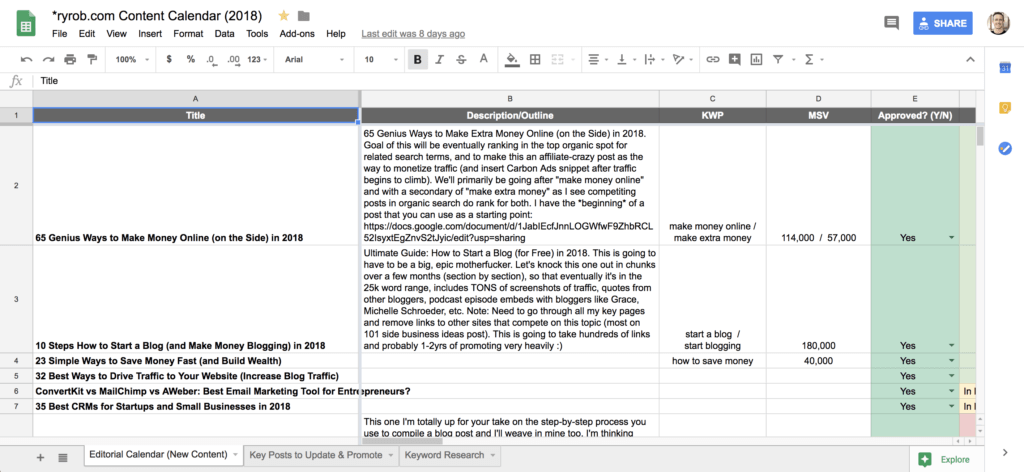 From here, I'll take to the more granular management of writing up a description of my approach to tackling this topic, confirm my keyword research, and this is where I'll spend time updating the status of the post even after it's published (when I secure new backlinks from high authority sites or it gets some press pick up).
Thanks for reading my post about how to start a blog! Read more on my blogging collection page.
7. Commit to a regular publishing schedule on your blog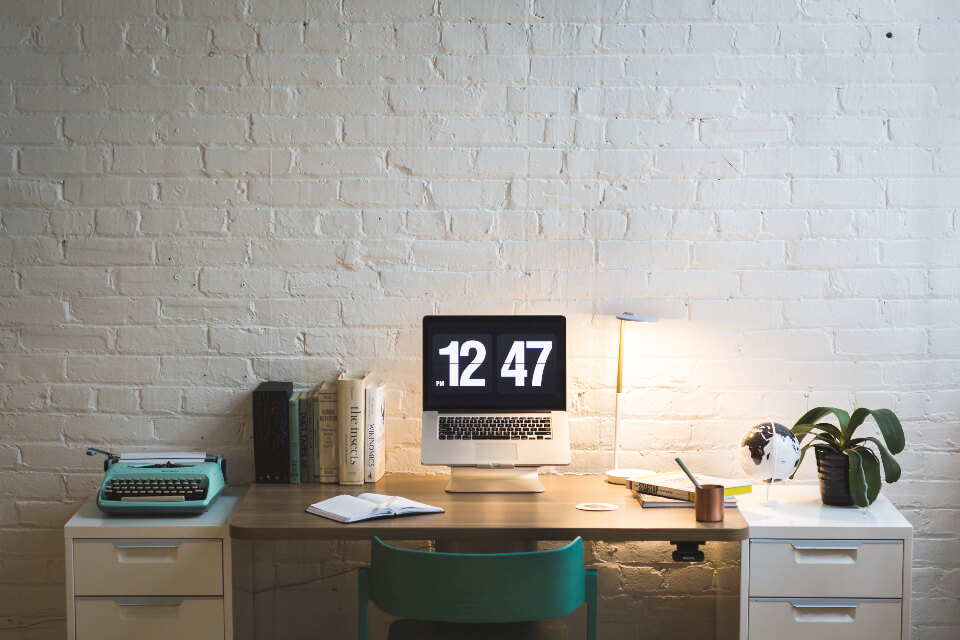 If you want readers to consistently come back to your blog, you need to give them a reason to.
Consistency is one of the least celebrated, yet most important aspects of starting a successful blog (and one of the reasons you decided to learn how to start a blog in the first place, I'd imagine). Even more, research supports this claim.
There are a couple reasons why consistency is key. Writing consistently:
Sets expectations with your readers: People know when to come back and check out your blog and will check in regularly for new content.
Sets expectations with yourself: It can be easy to get out of the habit of publishing regularly if you miss a couple days. However, if you decide on and commit to a schedule, you know when you have to publish. We all do better with a few deadlines in our lives.
Not only this, but publishing consistently helps you test and understand what types of content work with your readers. As Grace Moser of Chasing Foxes shared with me during her interview, they grew their blog to millions of monthly readers by putting out 4–6 pieces of content a week for several months in a row before getting real traction:
"Even if the majority of your posts don't go viral, the more you publish, the better the odds that one will send a lot of traffic your way."
Now, there's a fine line to walk when you first start a blog and want to set a rigorous publishing schedule.
You might have a ton of ideas and enthusiasm, but over-committing is the easiest way to kill both of those. Instead, you should commit to the minimum amount you want to publish—say once or twice a week—and try to stick to that religiously.
As author and blogger James Clear said in an interview on my podcast, "Sacrifice the scope, not the schedule." If you can't write a 1000-word post every week then write a 500-word post instead. Just make sure you're consistent.
Perfectionism is a deadly killer when it comes to projects like this. So remember, done is better than perfect.
This is where having a clear content calendar becomes so important. If you can spend a couple hours each month mapping out all the posts you want to write, you'll always know what you should be working on and when it's due. This can be in a simple Google Doc like the one in my free blogging course, or by using a tool like Trello that lets you track posts through the whole process from idea to writing to published and promoting.
Just like when you're working out or investing money, the more consistent you are with investing time into your blog, the bigger returns you'll get.
Oh, and side note—once you've started generating a decent amount of traffic to your blog, it'll be a smart long-term decision to move up your hosting plan to a managed WordPress hosting provider like Kinsta that have even more features (which is what I use now that I'm in the hundreds of thousands of monthly readers), especially when you're in need of speeding up your WordPress blog.
8. Use free photos and designs to make your blog posts stand out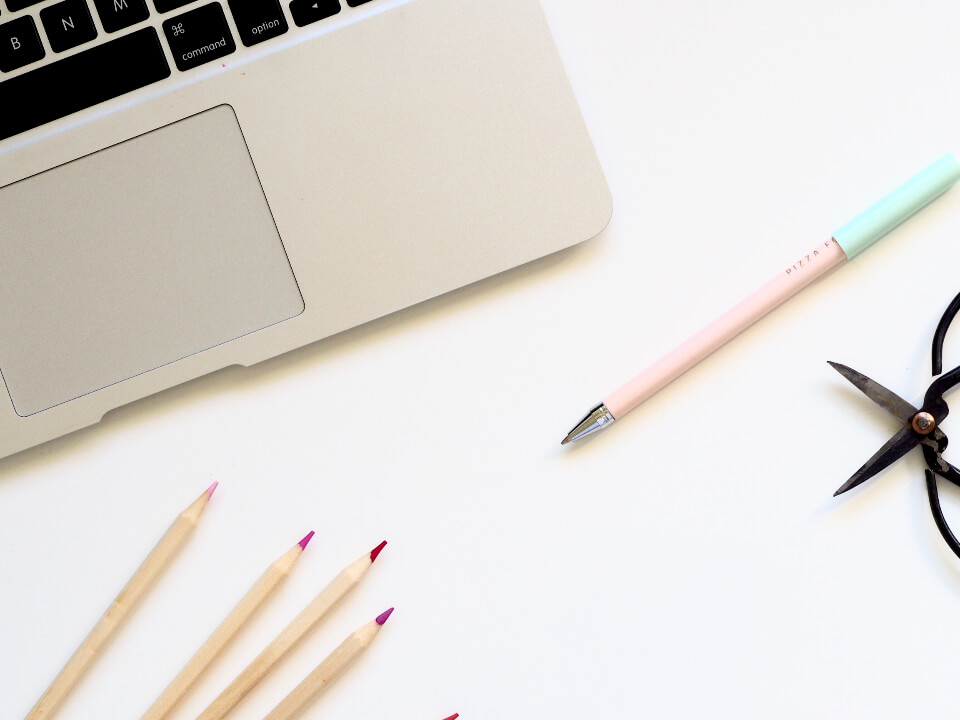 Before you hit publish on your brand new blog posts, there's one last step you need to do.
Studies show that blog posts with images get 94% more views than those without. And when it comes to posts getting shared on social media, tweets with photos get 150% more retweets that those without one, while Facebook posts with images get 2.3X more engagement.
Simply adding a few visual elements can almost double the amount of views and significantly expand the shares a post gets.
In fact, including high-quality images was one of the main things that former celebrity chef and founder of What's Gaby Cooking? Gaby Dalkin says made her blog explode in popularity:
"It wasn't until I hired two of my best friends—who happened to be a food photographer and food stylist—that my blog really took off. Because people eat with their eyes. And it allowed me to focus on what I love to do, which is developing recipes and engage with my readers."
Now, it's pretty unrealistic to think that you're going to hire a professional photographer to work on your new blog.
And that's totally fine (hint: I don't either)! There are some incredible free blog photo and design resources you can use to enhance your posts, even if you're not very design-minded at all. You can even just use product screenshots throughout your content, depending upon the subject matter—take for example my recent article about the best CRMs for small business.
Free blog photo resources
One of the easiest ways to add some design elements to your blog posts is with images.
While the words "stock photography" might make you think of cheesy photos of awkward people in a fake office with their thumbs up… in recent years, there have been a number of much higher quality sites pop up that offer incredible photography that's completely free to use for your blog.
Here's a few of my personal favorites:

Unsplash is probably the best online resource of completely free-to-use, user-uploaded photos for your blog. Every photo that makes it onto Unsplash is curated by their team to make sure it's high quality, meaning you're not sifting through terrible photos to find the one you're after.
Under the Unsplash license, you don't even have to attribute the photographer (however, they recommend you do!) Making it the easiest option for free blog photography.

If you're looking for something a bit more exclusive and are willing to spend a bit of money, Death To Stock sends you a curated collection of free images you can use on your blog each week. Or, for $12/month you can get access to the 2,000+ professional photos on their Premium site.

If you're after quantity over quality, Pixabay has a collection of 1.4 million photos, videos, illustrations and vector graphics you can use for free. Many of these are from other free stock photo sites and the quality isn't as curated as the other two I mentioned, but it's still a good option if you want to spend some time scrolling.
Other great free blog photo resources worth mentioning
Wikimedia Commons: 21+ million photos and images from throughout history that are now in the public domain and free to use.
New Old Stock: Vintage photos from public archives. Lots of cool options depending on your niche and design style.
Life of Pix: Awesome free-to-use photos donated by an advertising agency in Montreal, Canada.
Free blog design resources
Along with stock photos, there are a ton of great design resources out there that can elevate the design of your posts. And you don't need a deep understanding of Photoshop or even a creative bone in your body to use them. Here's a few of my favorites:
1. Canva for social media images and quotes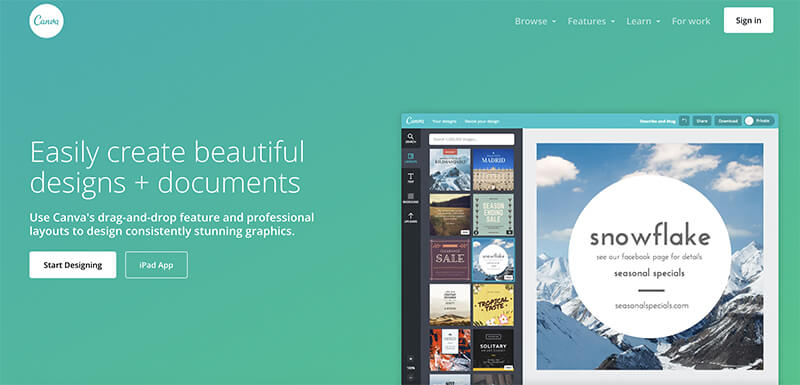 Canva is an incredible free design tool that's been around since 2012. It's got drag and drop templates for pretty much any design element you'd need for your blog, from social media posts for Pinterest, Twitter, and Facebook to custom quotes.
Basic usage is free and you get access to a ton of design resources, logos, and photos.
2. Visme for infographics and presentations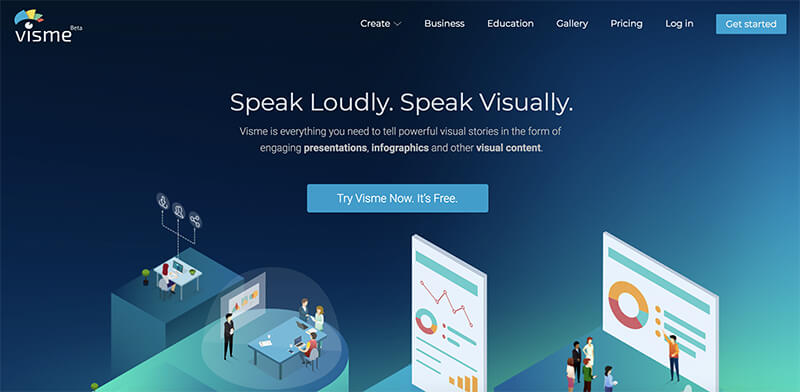 Like Canva, Visme is a free online tool that lets you make custom designs for your blog. After quickly signing up, you'll be able to choose from hundreds of templates for blog graphics, infographics, social posts, and more.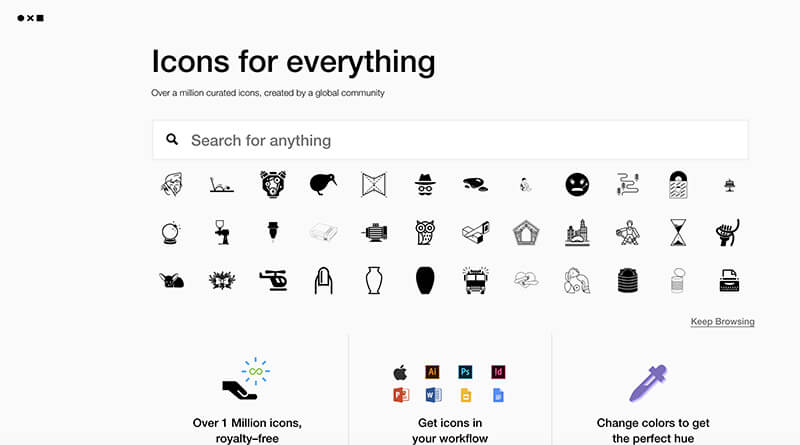 If you've got design chops and want to do a bit of work yourself, there's no better place for icons that Noun Project. With over 1 million+ royalty-free icons, it's a fantastic resource for blog icons.
Other great design resources to start a blog on the right foot:
Subtle Patterns: Basic blog backgrounds and patterns made by the freelance marketplace TopTal
PicMonkey: An online photo editor with a fun smartphone app for editing personal photos
Pixlr: More advanced online photo editing (for people who are comfortable with tools like Photoshop)
Thanks for reading my guide about how to start a blog! Read more on my blogging collection page.
How to Start a Blog in 2020: Final Takeaways for New Bloggers
What this all boils down to is being excited and engaging with your new blog.
If you want people to read what you're writing, you need to give them a reason to.
Write exciting content, connect with people in the space, and enthusiastically share what you're working on.
The traffic, monetization and everything else will follow.
Wow. I know.
We got through a lot here.
I wrote this guide to learning how to start a blog because launching a blog has been one of the most empowering, life-changing decisions I've made in my life.
And I hope that by now you feel confident enough to go out there are start a blog of your own.
I'd love to have you in my free 7-day course that'll teach you my proven step-by-step process to launching a blog in just 1 week and in the course, we also dive deep even further into topics like driving traffic, my personal writing process, monetizing your blog and more.
You can sign up (for free) and join thousands of bloggers I've helped to get their sites off the ground and earning right here…
---
Want my Free Course: How to Start a Profitable Blog in 7 Days?
Enter your name and email address and you'll get instant access to my course that's been featured on Forbes, Business Insider and Entrepreneur.
---
Quick Summary of How to Start a Blog in 8 Easy Steps
To sum things up. When you're looking to learn how to start a blog, you need to:
Pick your blog's name
Get your blog online (web hosting)
Design your blog with a free WordPress theme
Write your first blog post
Promote your blog and make money
Develop a successful long-term content strategy
Commit to a regular publishing schedule on your blog
Use free photos and designs to make your blog posts stand out
That's it!
Infographic: How to Start a Blog (for Profit) This Year
For those of you more visual learners, I also put together this infographic breaking down how to start a blog and my personal process for beginning to generate both traffic and revenue from your blog.
Enjoy!

Want to share this infographic on your blog too?
Email me at ryan@ryrob.com and I'll hook you up!
---
How to Start a Blog FAQs (Frequently Asked Questions) People Also Ask
I get dozens of questions every day from readers (like you), who are learning how to start a blog for the first time. Here are my answers to the most common beginner blogging questions people also ask when learning how to start a blog.
What is a blog?
A blog is a regularly updated website where new content is frequently published, typically written in an informal or conversational style—often with the goal of attracting readers and achieving some sort of goal, whether community-building or growing a business. For more, check out my full guide: What is a Blog? How a Blog is Different Than a Website.
Can you start a blog for free in 2020?
If you're just getting into learning how to start a blog, you might be worried about the cost of building and hosting your own blog. Luckily, today that isn't much of an issue. There are tons of ways you can get started blogging today (in half an hour or less) that are absolutely free.
Free blogging platforms like Medium, Tumblr and Blogger are awesome resources for testing things out. And these options are great… if your blog is a hobby.
However, if you're looking to build a business out of your blog or make money blogging, I would highly recommend some of the paid (yet still very affordable) options like Bluehost that we covered in this step-by-step tutorial. If you're on the fence about whether to use a free or paid hosting provider to get started… here's why you should consider (an affordable) paid hosting provider:
When you go with free, you'll have a lack of control over how your blog looks and acts.
Most free services have limits on monetization.
Switching or upgrading to a better service eventually is a hassle.
There's a lack of support if something goes wrong.
Free blog hosting services can disappear overnight.
All of this is to say that you should think about your plan and what you want from your blog before you get started. While it's perfectly fine (and easy) to learn how to start a blog for free, sometimes a little investment in yourself up front can go a very long way toward paving a future that's much more lucrative.
How do you start a blog for free?
If you want to start a blog for free, you're in luck! There are tons of ways you can get started blogging today (in half an hour or less) that are absolutely free. Free blogging platforms like Medium, Tumblr and Blogger are great places to start a blog for free and begin practicing at building your writing skills—especially if your blog is meant to be a hobby. Just head over to one of those sites, set up a free account, and you'll be blogging in a matter of just a few minutes.
Over the long-term however, if your blogging goal is to generate an income from blogging, or eventually build a business around your blog, choosing to start a blog with one of the many affordable hosting platforms like my personal favorite, Bluehost, or alternatives like Dreamhost or HostGator will afford you many more options for customization, your own dedicated domain name (like yourblog.com), and the guarantee of hands on help & support with any technical challenges you face over the months and years to come with your blog.
Disclosure: Please note that when you purchase hosting using my discount links above, they compensate me, which helps me make this ultimate guide to starting a blog free of charge to you. Know that I also use Bluehost hosting, and I would never recommend a product, tool or service I don't personally use & advocate for
How much does it cost to start a blog in 2020?
Depending upon your goals and the type of blog you want to start, it costs around $34.50 to $65.40 (minimum) to start a blog in 2020 and cover your first year of expenses if you're only spending money on hosting—and doing all of your own content writing, utilizing organic promotion efforts and otherwise keeping to a very tight budget.
If you need to factor in buying a computer, phone or other hardware into your equation for how much it'll cost to start a blog—then that can add anywhere from $200 to $2,600 in one-time purchases depending upon the brand of computer (Windows vs Apple) and features (MacBook vs MacBook Pro) you decide upon. Plus, there are a lot more variables to consider when it comes to how much it costs to start a blog, depending upon the kind of blogger you want to be:
Hobby Bloggers (blogging solely for fun or as a creative outlet)
Side Hustle Bloggers (blogging on the side of your day job to slowly build a business)
Full-Time Bloggers (blogging as a full-time business)
If you're just getting started and want to keep your new blog on a tight budget, you'll have a different threshold for costs compared to someone who's running a blog that already generates a little income when it makes sense to upgrade into more premium expenses like the best web hosting, better plugins, themes or more robust email marketing tools.
How Much it Costs to Start a Hobby Blog: $34.50
How Much it Costs to Start a Side Hustle Blog: $65.40
How Much it Costs to Start a Full-Time Blog: $941.40
Here's a graphic that also illustrates how much it costs to start a blog this year.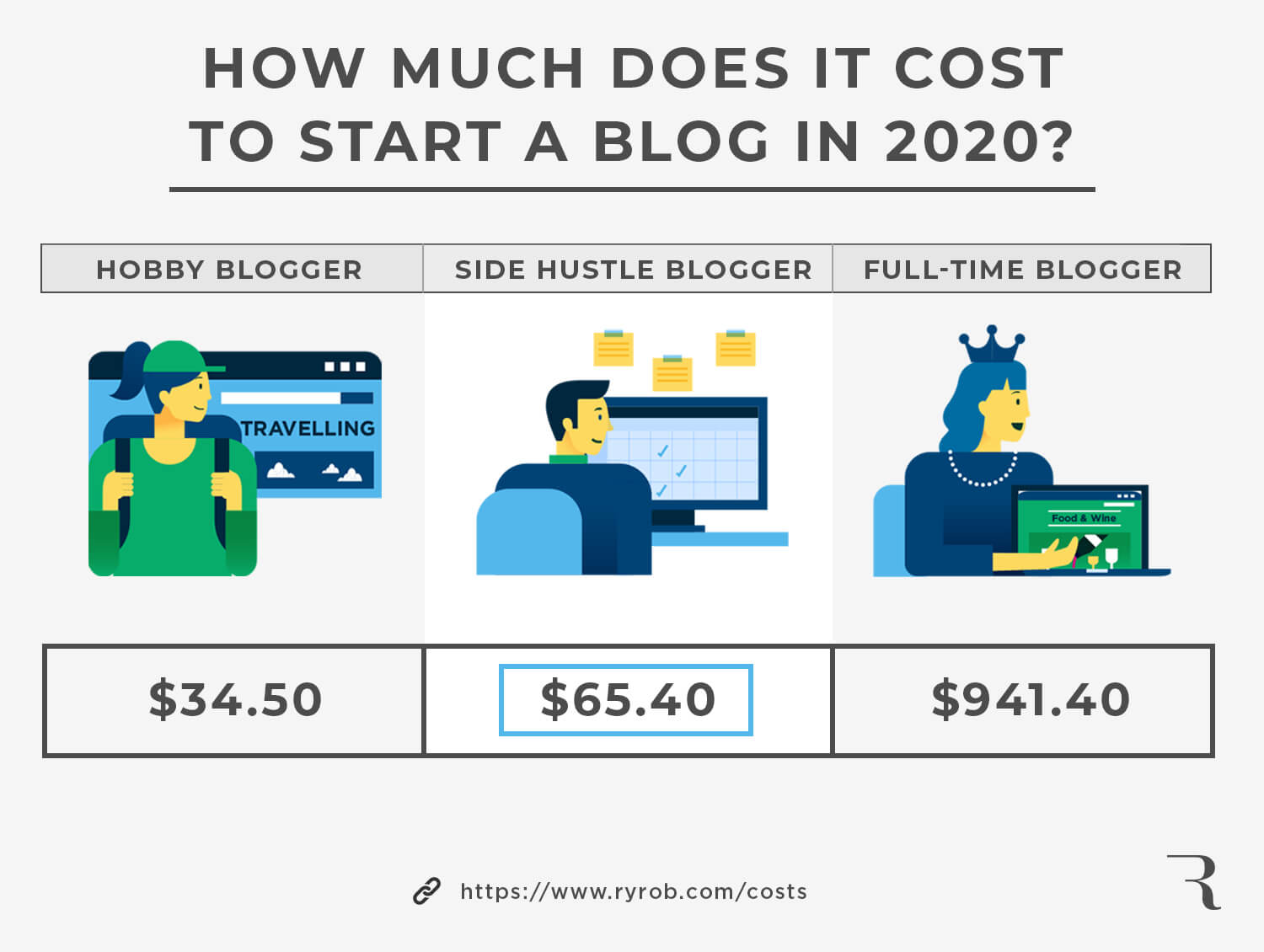 And if you want an even more in-depth analysis, read through my guide to creating a budget for your blog and deciding which costs you should spring for as you grow your blog.
Do bloggers get paid?
Yes, most bloggers get paid somehow. Bloggers get paid through a variety of different monetization paths. Some of the best ways to get paid from blogging include affiliate promotions, display advertising, sponsored content, freelance opportunities, sales of your own physical or digital products, and many of the other ways I talk about in this guide (above) when it comes to making money blogging.
Some bloggers, depending upon the niche they operate in, will instead choose to get paid from their sponsors in the form of free trips, free products, trades or other forms of non-monetary compensation.
How do bloggers get paid?
Becoming a blogger, and actually getting paid for it are two very different things. While it's a very realistic goal to start a blog and expect to begin getting paid from various different monetization methods you can implement within as little as a few months of work, the reality is that most bloggers don't ever earn a life-changing income from their blogs.
In order to become a blogger, all you need to do is publish your first blog post—either on a free blogging platform or through your own self-hosted blog (what I recommend). Boom. That's it. Welcome to the world of blogging. Now when it comes to actually getting paid from your blog, there are a ton of options.
From joining display ad networks, to getting sponsored posts from companies that want to reach your readers, affiliate promotions, landing freelance or consulting gigs, teaching online courses, selling physical products, building software tools and more, there are many different ways to get paid from blogging. I break down my 8 favorite ways to monetize your blog here in this guide.
How much do bloggers make?
The amount of income bloggers make can vary widely. While the majority of bloggers earn very little (think less than $1,000 per year), especially in the very early days of blogging—as your website traffic grows, you'll have many more opportunities to monetize your blog and begin earning much more from it. Today, I make anywhere from $20,000 to $60,000 per month from my blog—which makes for a nice cushion of extra savings for me.
In total over the past few years, I've made between $150,000 and $500,000 per year as a blogger (part-time). My blogging income can vary quite a bit depending upon the number of sponsorships I'm running, how well certain posts are doing as far as driving traffic and affiliate income, the number of students joining my paid online courses, how many freelance clients I accept, and several other variables.
While most bloggers won't typically make this much money from their blogs each year, there are plenty of bloggers earning much, much more than me—some well into the several hundreds of thousands of dollars each month. Moreover, I'm living proof that it's possible to start a blog from scratch and begin making money from it within as little as a few months. Building a profitable blog is all about creating winning habits, deliberately building your readership and finding win-win ways to monetize with them.
How do beginner blogs make money?
Beginner blogs make money from a variety of sources that don't require a large number of readers, like landing freelance or consulting clients, getting opportunities to be a paid speaker if you're experienced in your industry, one-on-one coaching, teaching in-person or online courses, selling physical or digital products, and if you're able to quickly generate readers for your blog—that creates more monetization opportunities through things like sponsored content, affiliate promotions, selling your advice to readers, and more. Many of these blogging courses dive even deeper into monetizing your blog.
How much time does it take to start making money from blogging?
You can make money from blogging in as little as 1 month if you're talking about the first time you earn anything from your blog. However, if you're talking about getting to a more significant level of income (or repeatable streams of income), 3 to 6 months is a much more realistic time frame if you're able to allocate a sizable amount of time to growing your blog.
There's certainly a long-tail effect though, where the longer you stick with blogging (1, 2, 3+ years), the more content you'll have published on your blog, the more authority your site will have, the more readers who will be coming by and thus the more you should earn. For context, six years into blogging, I'm now earning $50,000/mo during some months from my blog.
Moreover, the time to making money from your blog varies a lot based on many different factors like the topics you're writing about, whether you have an existing audience somewhere (or are starting from scratch), how much time you're able to allocate to writing and promoting your blog content, if you have any relationships with more established bloggers, brands or websites that can help accelerate your progress by letting you guest post, which ways you choose to start monetizing your blog (see my section about monetization above) because some are much easier/quicker than others, how well you're able to implement your monetization strategy, and many other variables.
How do I start a personal blog?
The first step to starting a personal blog is choosing whether you want to use a free blogging platform like Medium, Tumblr and Blogger (that all come with limitations) if you're blogging as a hobby, or if you want to start a personal blog with the eventual goal of earning an income from your blog by using a self-hosted WordPress install and ultra affordable hosting at less than $3.00/month from a company like Bluehost—the latter of which is how my personal blog here is operated.
Personally, I recommend going the route of a self-hosted WordPress blog, because you'll be able to own your own domain name, control everything about the design and branding of your blog and have way more flexibility in terms of making money from your blog (which I cover at length in this guide right here).
How do you start a blog for beginners?
Starting a blog for beginners is easy, we're breaking it down in ten simple (quick) steps here in this guide, and in less than ten minutes you should be able to get your blog started and live on the Internet, even as a total beginner. Get started at the top of the guide here.
How do I create a personal blog for free?
You can create a personal blog for free on several different platforms, including Medium, Tumblr and Blogger, which are all great places to practice writing if your blog is designed to be a hobby or just for fun.
Now, if on the other hand you're looking to make money from your blog, you'll want to go with a self-hosted WordPress powered blog, with extremely affordable hosting (as little as $3.00/mo) from a company like Bluehost. Why? While you can definitely create a personal blog for free with one of the sites I mentioned above, you'll be very limited in your options. You'll be stuck with prominent branding from the free blogging platform you choose, you'll miss out on the opportunity to own your own domain name (like yourblog.com), and many of the more passive monetization channels for making money from your blog are likely to be somewhat restricted on free platforms.
When you start a blog using the steps I've outlined in this guide, you'll own your website—and have unlimited control over every decision you make with it. So if your goal is to build a business and make money blogging, your only smart option is to choose a self-hosted WordPress powered blog (like mine here) and affordable hosting from a dependable company like Bluehost.
How do you start a free blog and make money?
The best way to start a free blog and make money, is to choose a simple free blogging platform like Medium, Tumblr or Blogger, and create a quick profile for yourself. You can relatively quickly make money from your free blog by building a reputation for yourself as an expert within your industry.
Commit to writing regularly, engaging with others in your niche, networking to build relationships, and position yourself as either a consultant for hire, paid event speaker, parlay your free blog into a book deal, or use your new reputation to become a coach, teacher or advisor to others who want to learn from you.
Is blogging still relevant in 2020?
Oh yes. Blogging is more relevant in 2020, than ever before. Today, my blog earns me anywhere from $20,000 to $60,000/mo in income. That's pretty damn relevant if you ask me, and millions of other bloggers are building businesses on the backs of first starting a blog and learning how to monetize their audience.
Whether you're learning how to make a blog on the side of your full-time job—with hopes to grow it into a profitable business one day—or you've got some other goal in mind, blogging is one of the absolute best ways to build an audience.
And if you can create an audience of people who are tuning into your regular content, then you've got the foundation for building a real business by serving those people with either your own products and services or by recommending other products and services (while collecting an affiliate fee for that referral).
Why should I start a blog? 6 good reasons you should start a blog (and 4 reasons not to)
If you're considering starting a blog, here are six good reasons why you should get started today:
Good Reason #1: You'd love to write about a particular topic (and eventually get paid)
Good Reason #2: You want to build an online business for yourself
Good Reason #3: You're looking to build your personal brand
Good Reason #4: You want to make a difference in the lives of others (a blog can be your platform)
Good Reason #5: You'd like a new (profitable) hobby to explore
Good Reason #6: You enjoy learning new things
If one or more of these motivations above ring true to your feelings about blogging—then you should without a doubt give it a try to see if it's right for you.
On the other hand, there are also some reasons not to start a blog. If your goals, ambitions and motivations are misplaced from the start, then it'll be extremely difficult for you to create a blog and get enough traction with it to continue building your site over the coming months and years.
If you primarily identify as having one of these below motivations for starting a blog, I'd reconsider whether or not a blog will actually be your best vehicle for achieving these goals:
Bad Reason #1: You want to make money fast
Bad Reason #2: You want to write (only) about your life
Bad Reason #3: You read a lot of blogs and it looks pretty fun
Bad Reason #4: You want to get free products and comped trips
There are other ways to achieve the goal of making money. You can use a free platform like Instagram or Medium to write about your life for friends and family. Don't rush into blogging thinking there won't be some serious challenges along the way (it'll take at least 3 to 6 months for you to start earning from your blog). Building an Instagram following will be a faster (and easier) path to just getting free products and sponsored trips than blogging.
How do I determine how much demand there is for the topics I want to blog about?
Before diving into determining demand, let's cover an important term: Estimated Monthly Search Volume (MSV). This is an estimate you can get from a free or paid keyword research tool like SEMrush, Wordstream, Ahrefs and KWFinder, that'll give you their estimate of how many searches are done on the keyword phrases you run through the tool. That's pretty straight-forward.
Determining a level of demand there is for a given set of keyword phrases, on the other hand, is much more subjective and open to interpretation—but I have a free tool I put together to help you check search demand, called the Niche Demand Checker you can grab in my free course right here.
And here's my ultimate guide on how to do keyword research to create an intelligent content strategy.
If you ask 100 different experienced bloggers, you'll get 100 different answers. Here are the ranges that I personally use to determine the level of demand a keyword phrase has when I run it through a keyword research tool:
Very Low (< 1,000)
Low (1,001 – 2,000)
Medium (2,001 – 5,000)
High (5001 – 10,000)
Very High (10,000+)
Keep in mind, we're talking about the number of monthly searches here, and in the context of how much search demand there is in a given niche topic area—which is a great place to begin when you're learning how to start a blog.
Eventually as your blog grows and you have a regular flow of new readers, you'll be able to go after keyword phrases that get well into the tens or hundreds of thousands of monthly searches (even millions), but here we're talking about taking on keyword phrases in a niche topic area that you'll be able to realistically rank your content well with—that still has a decent level of search demand.
The niche I chose to learn how to start a blog in is crowded. How do I stand out?
By being different in some small way! There's always an opportunity to make your blog stand out within a niche of any industry, regardless how much competition there is today. Let's take the example of travel blogging. While there are more competitors in this space, you also typically have a much higher demand for more content than in many other industries—and proven demand is a very good thing when it comes to starting a blog.
There are literally countless trip destinations around the world, and travelers are always in need of helpful content when it comes to planning trips. Just because others cover the same destinations, doesn't mean you can't do it too—and still find your readers.
However, in order to truly stand out in your niche, you need to think about ways to differentiate yourself and your blog content. Examples of differentiation could be things like:
High quality location-based photos
Taking the point of view of a "locals guide" to each city
Having in-depth written content that goes beyond what others write
Shooting video footage of the best sights you need to see
Documenting your journey behind the scenes on Instagram,
Don't let the fact that there are competitors stop you from choosing to start a blog on a topic you're in love with. If anything, this is an opportunity to gather inspiration from what you see working well for competitors, adapt it to fit your own style, strengths, interests and continue building your own unique style to blogging over time.
How do I get readers to come to my blog?
I've written a lot about how to get readers to come to your blog in my epic guide on how to drive traffic to your website. The best ways to get readers to come to your blog include first and foremost creating share-worthy content that people will actually want to read. After that, you need to nail your on-page SEO, begin guest posting on other blogs and websites that have an existing pool of readers who may be interested in what you have to say, sharing on social media, engaging in relevant online communities, being interviewed on podcasts, launching a YouTube channel, hosting webinars, speaking at conferences, getting on local television and more that I break down here.
What is WordPress?
WordPress is a simple blogging platform started in 2003 to help publishers, bloggers and businesses quickly build, publish and maintain websites without having to hire a technical team to do it, but WordPress has since transformed into much more. For more, check out my full guide: What is WordPress? The Difference Between WordPress.org and WordPress.com.
Is WordPress free?
Yes! To be clear, there are two different versions of WordPress out there. What most bloggers use, the WordPress.org version, serves as a 100% free CMS (content management system) that powers the majority of websites on the internet. It's what I use as the backend CMS to power my blog here, and I couldn't recommend it more highly because of how widely customizable it is—and the fact that it's completely free.
Now, the other version of WordPress, is what you'll find at WordPress.com. While this service is owned and operated by the same parent company that maintains the free version of WordPress, the .com version is how the parent company generates revenue with their blog hosting plans (this is how they can afford to keep the .org version of WordPress free for all of us bloggers out there). From WordPress.com, you can actually start a blog for free too—but as we covered earlier in this guide, it'll come pre-loaded with WordPress branding built-in and your blog will live on a subdomain like yourblog.wordpress.com instead of your own custom domain like yourblog.com.
How do I log into WordPress once I'm logged out?
You can always login to your WordPress by going to yourblog.com/wp-admin. (Just swap out the "yourblog" part for your actual website's URL of course).
If you can't remember your login information or need to reset your password, first search your email inbox for the welcome emails you received right after originally setting up your blog. Check your spam folder just in case, too.
Those emails will have two important sets of login information: Your WordPress login, which is the "backend" CMS you'll go to when you want to write blog posts and manage just about everything related to the look, feel and functionality of your blog. Those emails will also contain your Bluehost login credentials, where you'll go to manage your hosting plan, settings, and keep your billing information up-to-date.
Now, if you're not able to find those two emails, you'll need to reset your password. In WordPress, you can reset your password by clicking the, "Lost your password?" link right below the login fields on your WordPress login page (the yourblog.com/wp-admin one). You can reset your Bluehost password right here.
HOW TO MAKE MONEY BLOGGING – STEP BY STEP EXTENSIVE VIEW